19 Aug

Tenerife 2023 Wildfire
Updates and Resources: Tenerife 2023 forest fire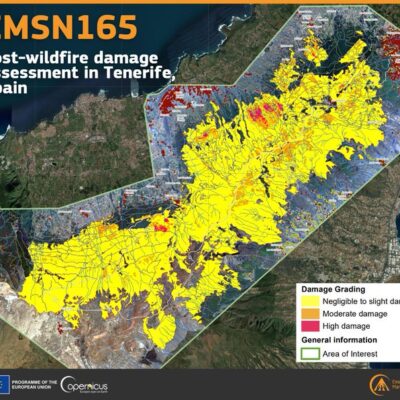 Summary of the Events
Cause of IFTenerife:
Fernando Clavijo, President of the  Government of the Canary Islands, confirmed on Monday, August 21st that the start of the flames was provoked by human actions and that they likely carried out their actions "with the perverse intention of selecting the most challenging location" for firefighters (La Provincia, 2023).
Impact of IFTenerife:
IFTenerife started to burn on August 15th, was declared "Controlled" on September 11th, and finally extinguished on November 10th 2023. IFTenerife was the most devastating fire in the Canary Islands in the last 40 years and the most severe in Spain in 2023 (La Provincia, 2023); The fire affected nearly 12,000 hectares, burning 7% of the surface of Tenerife, and causing 80.4 million euros of damage (RTVE, 2023). The forest fire has caused approximately 12 million euros of damage to the agricultural sector (RTVC, 2023), including 2,500-3,500 hives that were destroyed (Canarias Radio, 2023).
In addition, it caused more than 12,000 people to have to be evacuated throughout the course of the fire (La Provincia, 2023), 364 farms and 246 buildings were affected (Registradores de España, 2023). Up to 60 protected species may have been impacted by the forest fire, but the true impact on these species is not yet known (Tenerife Ahora, 2023).
Recovery from IFTenerife:
The Cabildo will request a special employment plan from the Canary Island Government to recover the forests in Tenerife (El Digital Sur, 2023). The Cabildo will promote a specific line of support for the primary sector which was severely impacted by the forest fire (Cabildo de Tenerife, 2023). The Spanish government council of ministers has declared the area impacted by IFTenerife as a catastrophe area (Canarias Ahora, 2023).
The future of fighting forest fires in Tenerife:
Up to 5,000 professionals have come together to form the Association of Foresters of Spain in the Canary Islands (Televisión Canaria Noticias, 2023).
Rosa Davila, President of the Tenerife Cabildo, has supported a permanent seaplane base in the Canary Islands (Rosa Davila, 2023). A group of forest firefighters in the Canary Islands advocated investing in reorganizing and professionalizing the firefighting teams rather than creating a seaplane base (UGT Bomberos Forest Canarias, 2023). The Cabildo of Tenerife allocates 7.7 million for fire helicopters in the period 2024-2028 (RTVC, 2023).
March 29th and 30th 2023,  60 members of the Forest Fire Community participated in a debate designed to achieve a common positioning of the Forest Fire Community at the Spanish level. In June that statement was released revealing the 15 declarations, agreed by leaders and experts in forest fighting, that the Spanish Government must do in order to prevent forest fire disasters. Read the full statement
here.
Please consider signing up to be a member and signing the adhesion to the declaration.