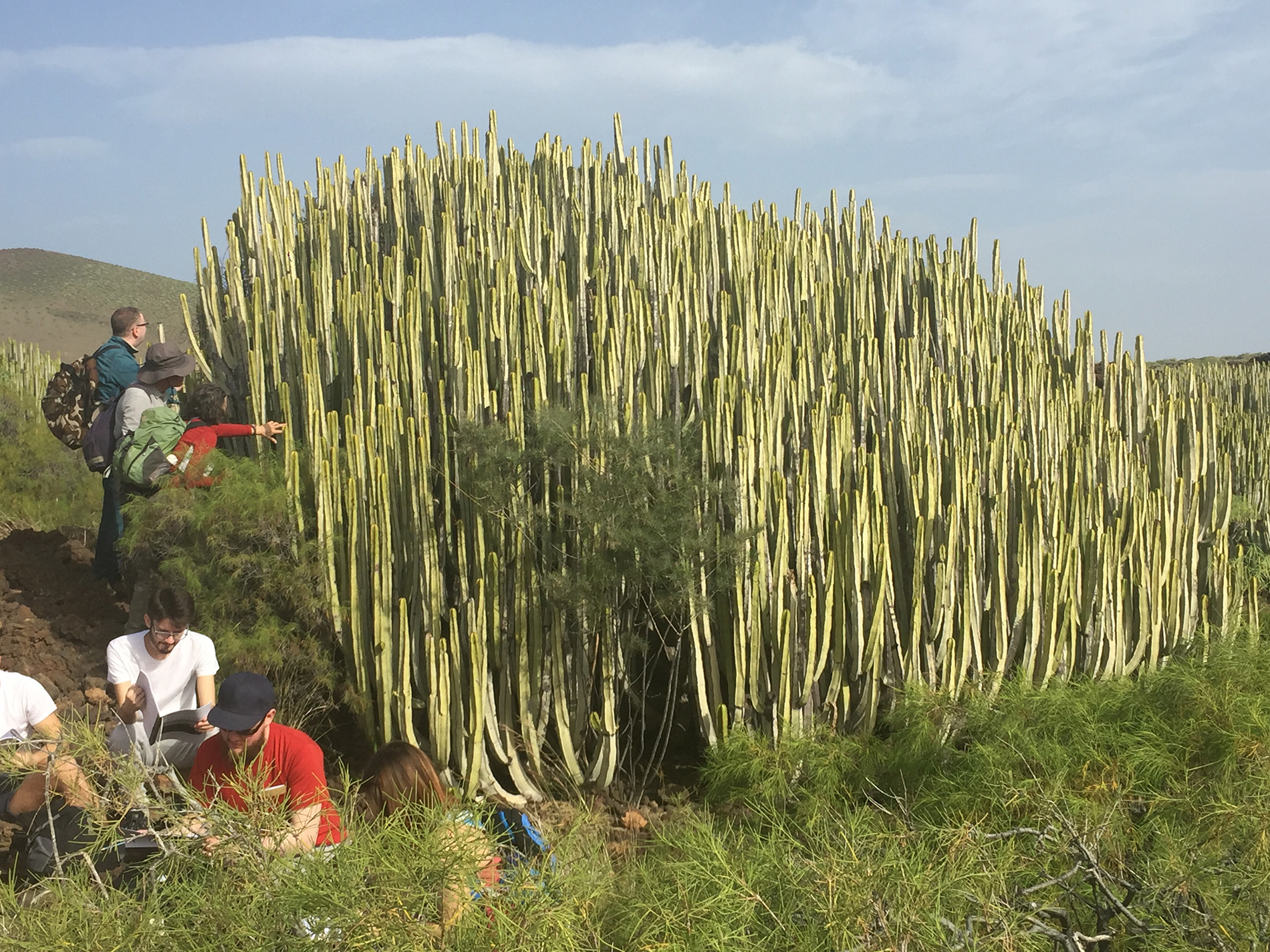 GeoTenerife is proud to announce a new botany field training camp in association with:
La Laguna University
General Foundation of the University of La Laguna
Cabildo de Tenerife (the Environmental Department and IDECO, the Sport, Leisure and Culture department of the island government)
Teide National Park.
Two-week practical and educational botanical field camp, hosted in one of the Atlantic Ocean's key biodiversity hotspots – Tenerife. The course includes teaching and practical field work at the local university (week one) and work experience in Teide National Park (week two).
WEEK ONE
At the La Laguna University (three days) and out in the field (two days) working in two different ecosystems, including the laurisilva Laurel forest.
Data analysis in environmental research:
Why an experimental design (2 hrs.)
Statistical Software (2 hrs)
Design of an experiment (2 hrs)
Data-sampling. Field work (10 hrs)
Descriptive statistics: Tables and graphs (3 hrs)
Hypothesis contrast: Parametric tests (3 hrs)
Non parametric tests (3 hrs)
Multivariate analysis: Classification (3 hrs)
Multivariate analysis: Ordination (3 hrs)
Reporting results (2 hrs)
Objectives
Students will design an experiment to answer the main questions that are proposed. The design of the experiment is the keystone of the whole process.
After that we will use statistical tools to demonstrate the main hypotheses.
Students will learn how to design experiments and use statistical tools to demonstrate the main hypothesis. Students will receive information about experiment design, statistical software and two days of field work to allow them to work on their own project.
WEEK TWO
In association with Teide National Park.
Three days' work experience in Teide National Park and two days' laboratory work at their associated plant nursery.
Participants will study the effect of bees on the endemic Spartocytisus supranubius. Research is taking place to determine the area affected by swarms in order for the authorities to regulate the amount of bees that beekeepers should be allowed to keep in the National Park.
Researchers at the National Park discovered that the amount of seed spread out on the ground near this local summit scrub is considerably less than in other areas where beekeepers aren´t allowed to install hives.
The project might demonstrate (or confirm) that local insects like lizards, birds, flies and insects in general, are better pollinators than the European bee, apart from establishing a determined number of bees to make the activity sustainable.
Teide National Park is the most visited national park in Europe and one of the most visited worldwide with more than 4 million visitors in 2016.
EXCURSIONS
GeoTenerife wil lead a series of eco-excursions and visits to areas of botanical interest.
Requirements
Suitable for undergraduates or recent graduates/ post graduates of botany or related subject.
Certification 
Participants will receive a document of participation issued by La Laguna University, a certificate from Teide National Park for the practical field and lab work undertaken.
Accommodation
Shared accommodation with other students is included in the cost of the Field Training Camp, in San Cristobal de la Laguna, a World Heritage City.
To Apply
The cost of the field camp is 980 GBP.
There is a strict limit of 14 places on the course, and will be offered on a first come, first served basis. If the application is accepted (subject to demonstration of relevant educational background), we will issue an invoice and the place will only be secure once payment has cleared in our account. The invitation for applications will close once all places have been allocated on the course.
Registration is Closed
TO APPLY: Please send your CV and cover letter to enquiries@geotenerife.com and mark the subject BOTANY18 candidate. Please ensure you write BOTANY18 all together. We will advise you of whether you have been successful within 4 days, once we have verified the suitability of your application with the University.