05 Jan

La Palma eruption – 5th January 2022
La Palma eruption – 5th January 2022
Work has continued on removing lava from the crossing in La Laguna, in the hope that this will enable new relocations of evacuated people this Friday. The re-opening of this crossing will open up access to areas between the villages of La Laguna and Tazacorte which have been cut off by the lava flows on this crossing at one end, and the lava flow which formed the northernmost lava delta at the other end. As well as simply removing the lava from the crossing, which started on the 27th December, the road underneath will need to be assessed and repaired too. As long as gas levels remain safe in the area and basic services have not been too badly damaged, the relocation plans should be able to go ahead as planned.
Regarding the monitoring of the volcano, only 3 earthquakes were recorded yesterday, peaking at M2.0. No changes are seen in the deformation of the ground, and tremor values have remained at background levels. Apparent increases seen in the tremor graphs over the last 24-48 hours have been confirmed by IGN not to be related to volcanic tremor, and some of the spikes have been attributed to the presence of scientists around the instruments carrying out maintenance work. Regarding air quality, levels remain good in all stations for SO2, and good to reasonably good in all stations for PM10 particles.
Sources: Government of the Canary Islands, PEVOLCA, Involcan, IGN, DSN, Cabildo La Palma, 112 Canarias
Cab La Palma -Progress and importance of clearing La Laguna crossing – here
Canary Islands Government – Oranges from volcano on the shelves – here
El Pais – Return of evacuees home interviews – here
To see our full news archive, visit our open data section or click here.
Marco Kaschuba – Drone photography showing the burial of homes in volcanic ash post eruption – here
The exclusion zones and road construction plans shown here have been approximated from press releases from the Cabildo de La Palma and will not be exact, nor claim to be official maps of the exclusion zones and road construction. For official information, please contact the Cabildo de La Palma.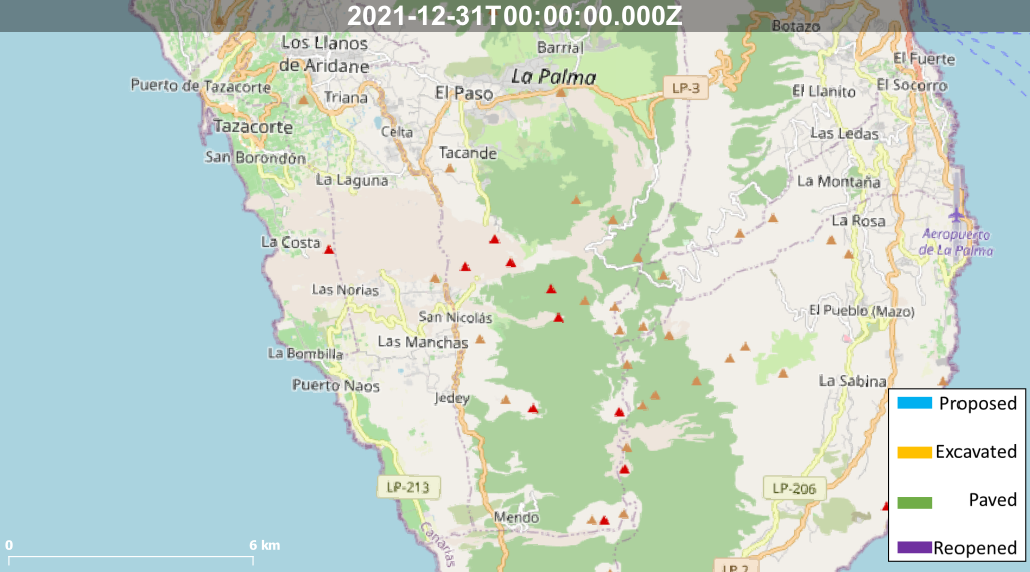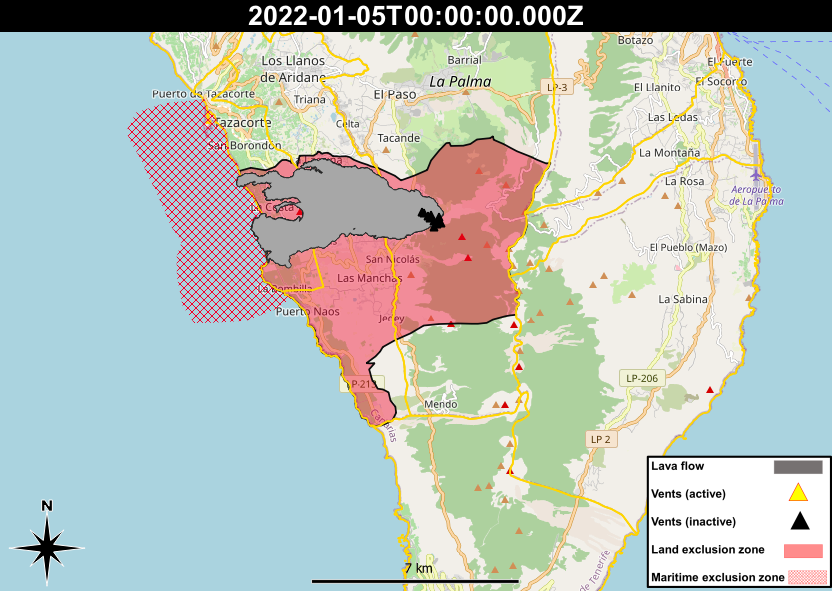 Access our archive of news articles here.
Interactive Road construction map
Come back soon to access this map.
Animated Exclusion zone map