06 Jan

La Palma eruption – 6th January 2022
La Palma eruption – 6th January 2022
After days of tests and preparations, PEVOLCA has announced the size of the exclusion zone will be reduced from 7am local time Friday morning, allowing for the return of more of the evacuated population. All residents on the north side of the lava flow field have been cleared to return, as well as some to the south of the lava flow field. There still exists a larger exclusion zone to the south of the lava flow field, as a result of the greater problems of volcanic gas levels in that part of the flow field. In all areas, there still exists safety zones in place in front of the inactive lava flows that need to be respected, as do any buildings that are no longer habitable due to damage from the volcano. Residents should return accompanied and ventilate their houses for 15 minutes before entering and avoid underground areas unless the gas levels have been verified safe. Any visible damage to buildings needs to be reported to and inspected by the city council.
Only 4 earthquakes were recorded, peaking at M2.2, and volcanic tremor remains at background levels. No significant changes have been recorded across the deformation network either. Regarding air quality, SO2 concentrations remain good across all stations, and concentrations of PM10 particles also remain good across stations except La Grama, where a reasonably good value is recorded.
Sources: Government of the Canary Islands, PEVOLCA, Involcan, IGN, DSN, Cabildo La Palma, 112 Canarias
Canary Islands Government – PEVOLCA reduces the extent of the exclusion zone – here
To see our full news archive, visit our open data section or click here.
Access photography taken around this time
Resiste La Palma – Drone photography of the lava deltas – here
The exclusion zones and road construction plans shown here have been approximated from press releases from the Cabildo de La Palma and will not be exact, nor claim to be official maps of the exclusion zones and road construction. For official information, please contact the Cabildo de La Palma.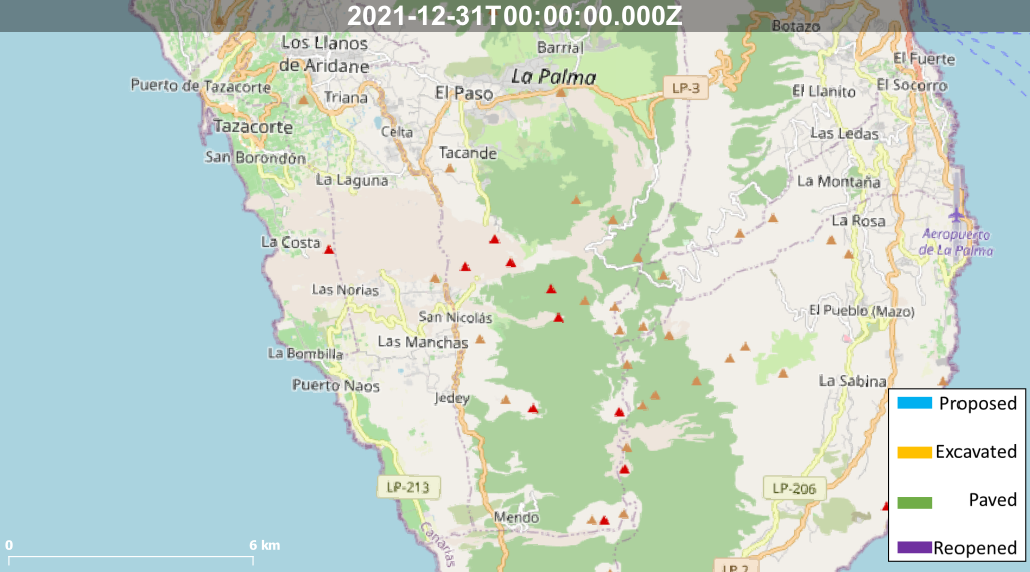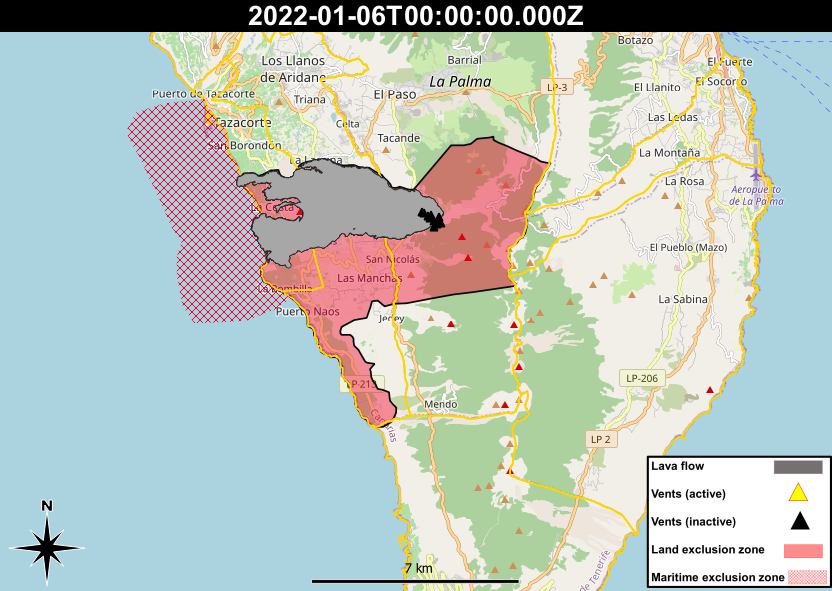 Access our archive of news articles here.
Interactive Road construction map
Come back soon to access this map.
Animated Exclusion zone map