07 Jan

La Palma eruption – 7th January 2022
La Palma eruption – 7th January 2022
After the successful return of more evacuees to their homes and reduction in size of the exclusion zone, the focus turns to the restorative work needed to repair damage to basic and essential services. Heavy machinery has been digging on the cooled lava flows surrounding La Laguna mountain, and work on an access road to Puerto Naos has been going well, despite being affected at times by gas levels in the area. Elsewhere, a jetty is being built near Punta del Negro to improve access by sea, although bathymetric studies are needed to assess the changes to the seabed caused by the lava flows before this can be completed. Finally, in the coming weeks the government are hoping to restore the drinking water network to the area to the south of the flows. PEVOLCA have also indicated further returns of evacuated people soon may be a possibility.
For the first time since the eruption began, no earthquakes were recorded throughout the day by the island's seismic network, and volcanic tremor remains at background levels. No significant changes have been recorded across the deformation network either. SO2 emissions from the main cone remain at a low level and are a product of the escape of gases from residual cooling magma. Regarding air quality, SO2 concentrations remain good across all stations, and concentrations of PM10 particles remained between good and reasonably good across all stations. However, changes in winds over the next few days may introduce Saharan dust into the atmosphere, which could impact PM10 concentrations.
Sources: Government of the Canary Islands, PEVOLCA, Involcan, IGN, DSN, Cabildo La Palma, 112 Canarias.
Canary Islands Government – The restoration of basic services such as water and the road network – here
To see our full news archive, visit our open data section or click here.
Access photography taken around this time

Resiste La Palma – Drone photography of the lava deltas – here
The exclusion zones and road construction plans shown here have been approximated from press releases from the Cabildo de La Palma and will not be exact, nor claim to be official maps of the exclusion zones and road construction. For official information, please contact the Cabildo de La Palma.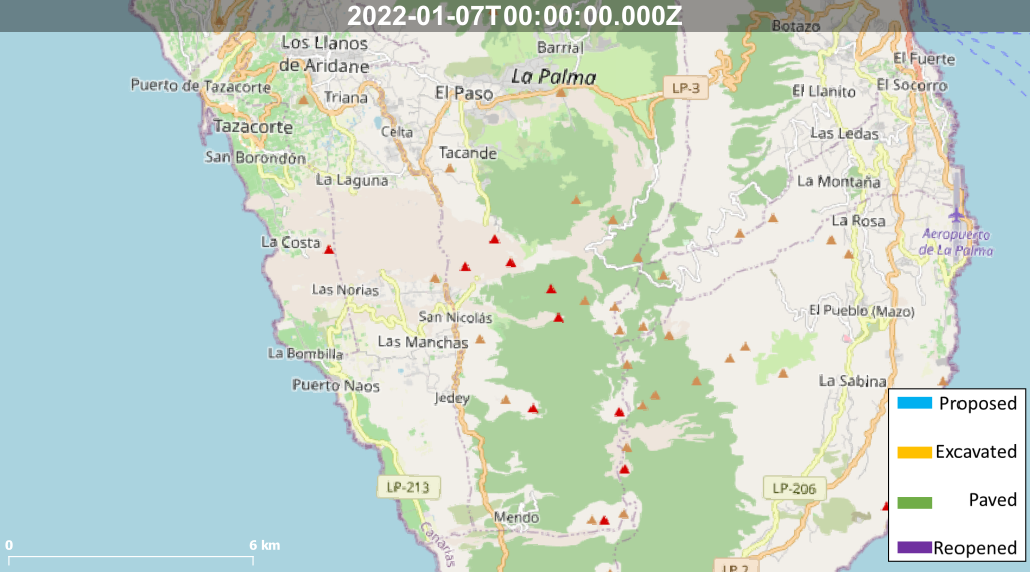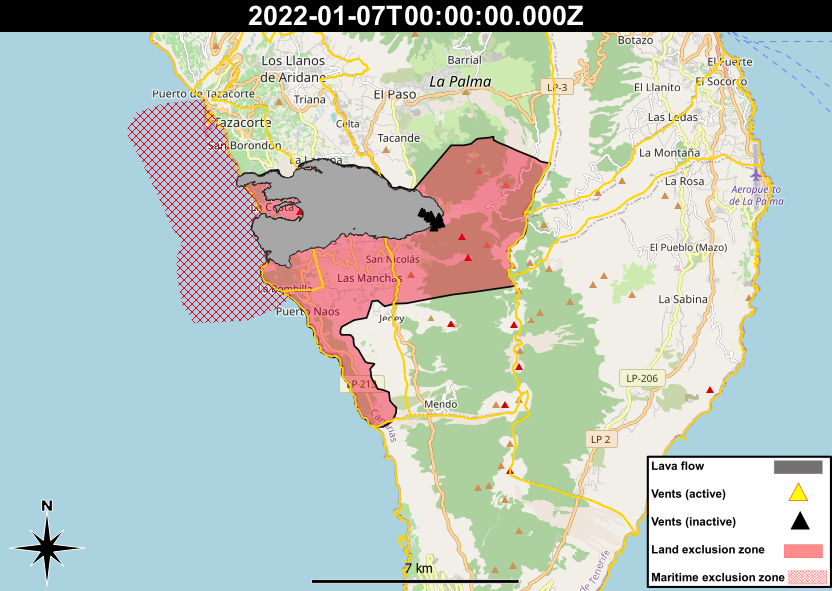 Access our archive of news articles here.
Interactive Road construction map
Come back soon to access this map.
Animated Exclusion zone map