08 Jan

La Palma eruption – 8th January 2022
La Palma eruption – 8th January 2022
With new returns of evacuated people and a shrinking of the exclusion zone in the last few days, a new normal is emerging in the post-eruptive landscape on the island. However, it is important to remember that in this landscape volcanic dangers persist. PEVOLCA has warned returning residents of approaching the lava flows, even if they appear cooled and stable, as collapses of the lava flows as they cool is possible, as well as the presence of high temperatures and high levels of volcanic gases. As an example of how high temperatures persist in volcanic settings, IGN volcanologists registered temperatures of 844 degrees Celsius in the vicinity of the main cone as the residual magma cools.
7 earthquakes were recorded yesterday on the island, peaking at M2.4, whilst volcanic tremor remains at background levels. No significant changes have been recorded across the deformation network either, and SO2 emissions from the main cone remain at a low level and are a product of the escape of gases from residual cooling magma. Regarding air quality, SO2 concentrations remain good across all stations, however concentrations of PM10 particles have sharply increased across all stations with the arrival of a Saharan air mass, to unfavourable levels.
Sources: Government of the Canary Islands, PEVOLCA, Involcan, IGN, DSN, Cabildo La Palma, 112 Canarias.
Access photography taken around this time

Copernicus – 3D visualisation of the lava flows – here
The exclusion zones and road construction plans shown here have been approximated from press releases from the Cabildo de La Palma and will not be exact, nor claim to be official maps of the exclusion zones and road construction. For official information, please contact the Cabildo de La Palma.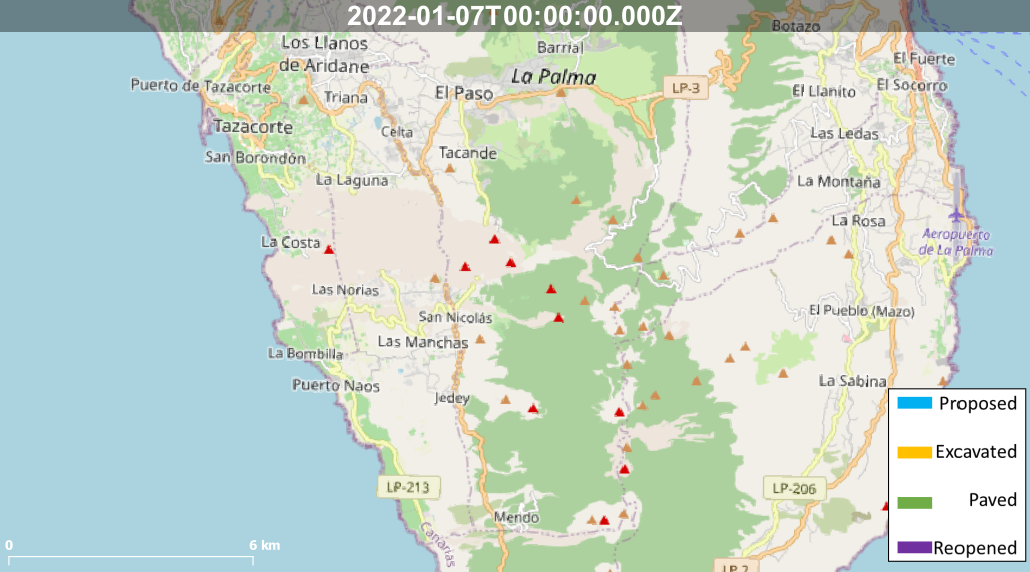 Access our archive of news articles here.
Interactive Road construction map
Come back soon to access this map.
Animated Exclusion zone map