11 Jan

La Palma eruption – 11th January 2022
La Palma eruption – 11th January 2022
As reconstruction work on the lava flows continues, the reconstruction and recovery efforts to remediate the economic impacts continue. According to Félix Bolaños, the Minister of the Presidency Relations with the Courts and Democratic Memory, aid for 79 applicants have been approved by the Government of Spain. The total of these donations is 4.2 million Euros, averaging around 60,000 Euros each, and is to alleviate the loss of homes. Aside from government aid, the Insurance Compensation Consortium in La Palma has also paid out 80 million Euros, averaging 154,000 Euros, to 592 applicants. Regarding physical reconstruction, 39 homes have already been delivered to new owners, and 104 homes are prepared to be delivered in the next few weeks.
In terms of monitoring parameters, 10 earthquakes were recorded yesterday on the island, peaking at M2.0, whilst volcanic tremor remains at background levels. No significant changes have been recorded across the deformation network either. Regarding air quality, SO2 concentrations remain good across all stations, and PM10 levels are at reasonably good to good levels in all stations, better than previous days where Saharan dust increased PM10 levels.
Sources: Government of the Canary Islands, PEVOLCA, Involcan, IGN, DSN, Cabildo La Palma, 112 Canarias, El Time.
Access photography taken around this time
IGME – Video footage of an eruptive fissure – here
The exclusion zones and road construction plans shown here have been approximated from press releases from the Cabildo de La Palma and will not be exact, nor claim to be official maps of the exclusion zones and road construction. For official information, please contact the Cabildo de La Palma.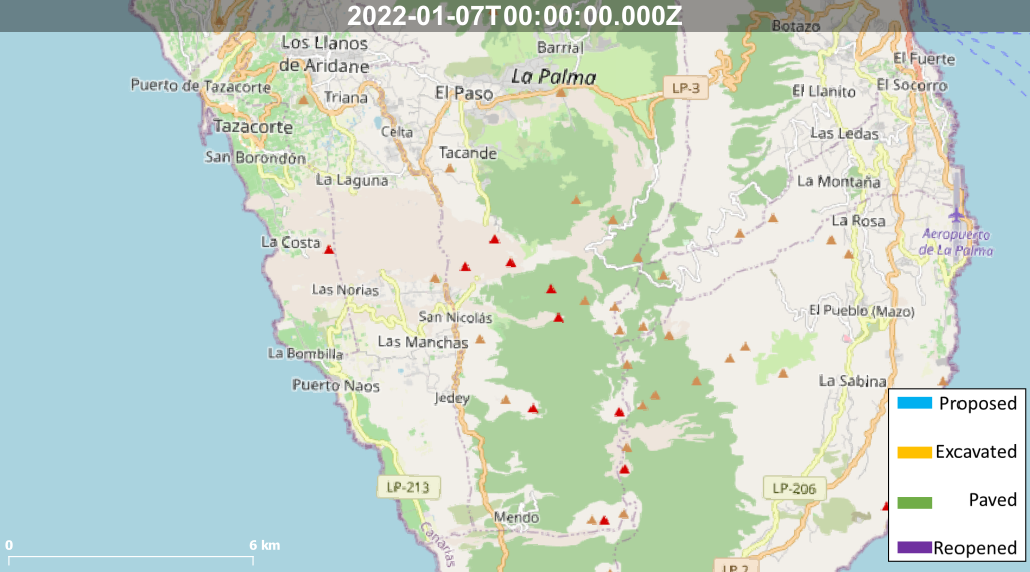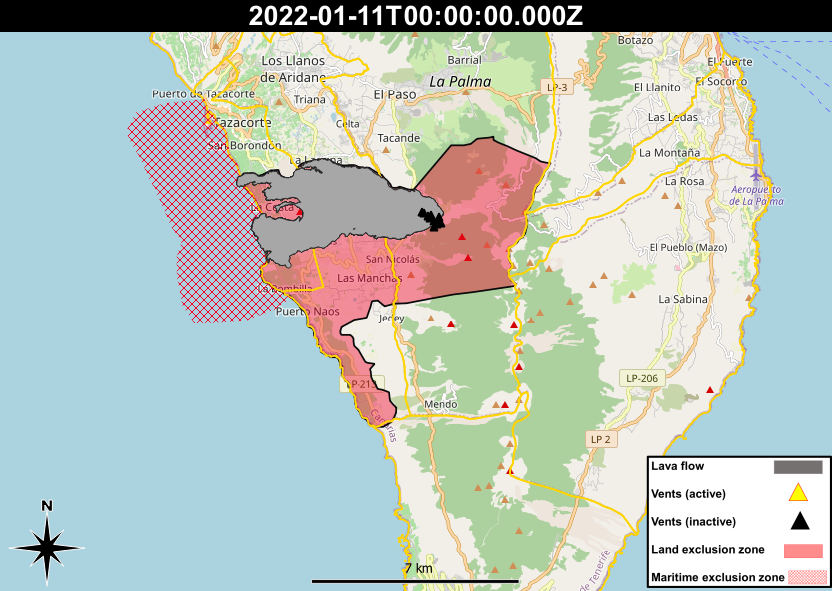 Access our archive of news articles here.
Interactive Road construction map
Come back soon to access this map.
Animated Exclusion zone map