17 Jan

La Palma eruption – 17th January 2022
La Palma eruption – 17th January 2022
PEVOLCA have announced today that as of 9am on Tuesday the 18th January, the exclusion zone surrounding the volcano and lava flows will be further reduced, allowing around 800 more evacuated people to return to their homes. The newly opened zone comprises much of the area directly to the south of the lava flow field, and includes the settlements of Las Norias, Hoya del Verdugo, Morro de los Judíos, Las Manchas, Cuatro Caminos, San Nicolás and south of camino José Pons la Jurona. However, the coastal areas to the south of the flow, including El Remo, Puerto Naos and La Bombilla, as well as more areas to the southeast of the main cone, will remain evacuated for now due to the continued presence of gases. PEVOLCA has warned again to respect the security zones marked around the front of the lava flows, and that buildings that do not meet habitability criteria set out by the local councils, due to damage from the volcano, cannot be occupied.
Elsewhere, a new 2.3 km long road has been opened between the towns of Las Manchas and Puerto Naos to the south of the lava flows. The road followed an existing dirt track, although has been upgraded to a tarmacked single carriageway road, to enable a faster and safer connection between the LP-213 in Puerto Naos, and the LP-211 in Las Manchas, that have both been cut off by the lava flows. The work was completed by TRAYSESA and cost €1.8 million.
Sources: Government of the Canary Islands, PEVOLCA, Involcan, IGN, DSN, Cabildo La Palma, 112 Canarias, El Time.
Canary Islands Government – The Minister of Public Works, Transport and Housing meets with the Ministry of Transport to determine where to start road development – here
Canary Islands Government – 85 new modular homes for families who lost their homes – here
Canary Islands Government – PEVOLCA authorises the return the return of relocated locals – here
          To see our full news archive, visit our open data section or click here.
Access photography taken around this time
IGME – Sulphur and temperature studies of the interior of a fumarole – here
The exclusion zones and road construction plans shown here have been approximated from press releases from the Cabildo de La Palma and will not be exact, nor claim to be official maps of the exclusion zones and road construction. For official information, please contact the Cabildo de La Palma.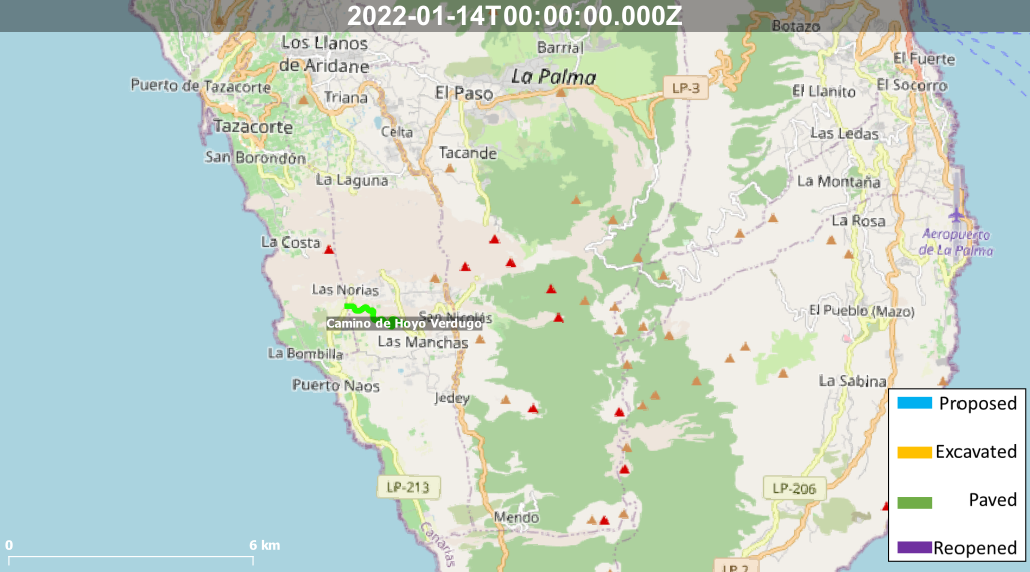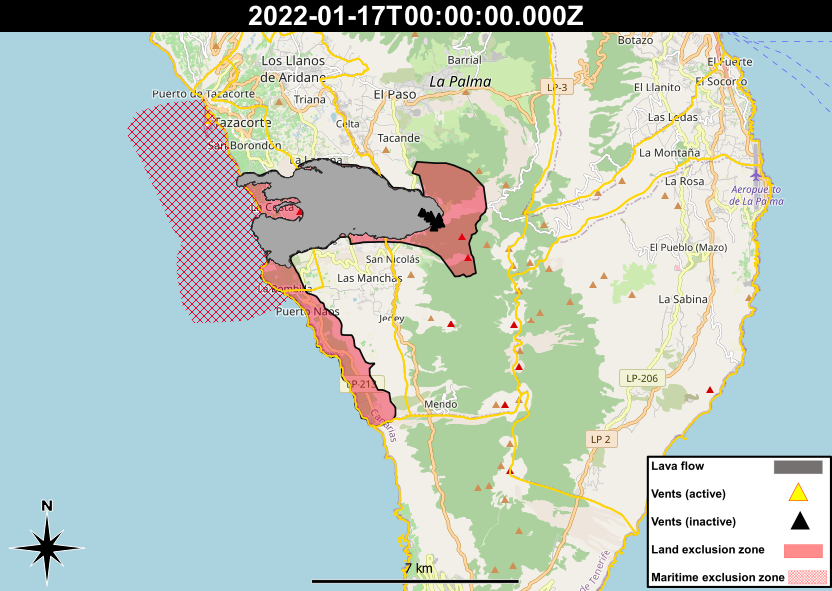 Access our archive of news articles here.
Interactive Road construction map
Come back soon to access this map.
Animated Exclusion zone map