18 Jan

La Palma eruption – 18th January 2022
La Palma eruption – 18th January 2022
The return of 800 more evacuated people to areas south of the lava flows took place as planned today. In the area Puerto Naos to the south coast of the lava flows, which remains evacuated due to the persistence of gases, new CO2 concentration data published by Involcan highlights this issue. Between the 9th and 17th of January, an optical CO2 sensor was installed in the ground floor of a building in Puerto Naos to measure the accumulation of gases. Throughout the week, concentrations ranged between 763 ppm and 44450 ppm, averaging 11921 ppm. The average value relates to a Yellow 'Dangerous' concentration of CO2, whilst the maximum value relates to a Red 'Imminent danger' concentration of CO2 as per the classification scheme used by Involcan. As warned previously by PEVOLCA, this represents the danger in these areas not just of high ambient CO2 concentrations, but also how CO2 concentrations can be especially elevated in enclosed, unventilated spaces, such as inside buildings.
Sources: Government of the Canary Islands, PEVOLCA, Involcan
Canary Islands Government – Priority with reconstruction is the roads – here
To see our full news archive, visit our open data section or click here.
Access photography taken around this time
IGME – Raúl Pérez gives an explanation of the current state of the lava lake – here
The exclusion zones and road construction plans shown here have been approximated from press releases from the Cabildo de La Palma and will not be exact, nor claim to be official maps of the exclusion zones and road construction. For official information, please contact the Cabildo de La Palma.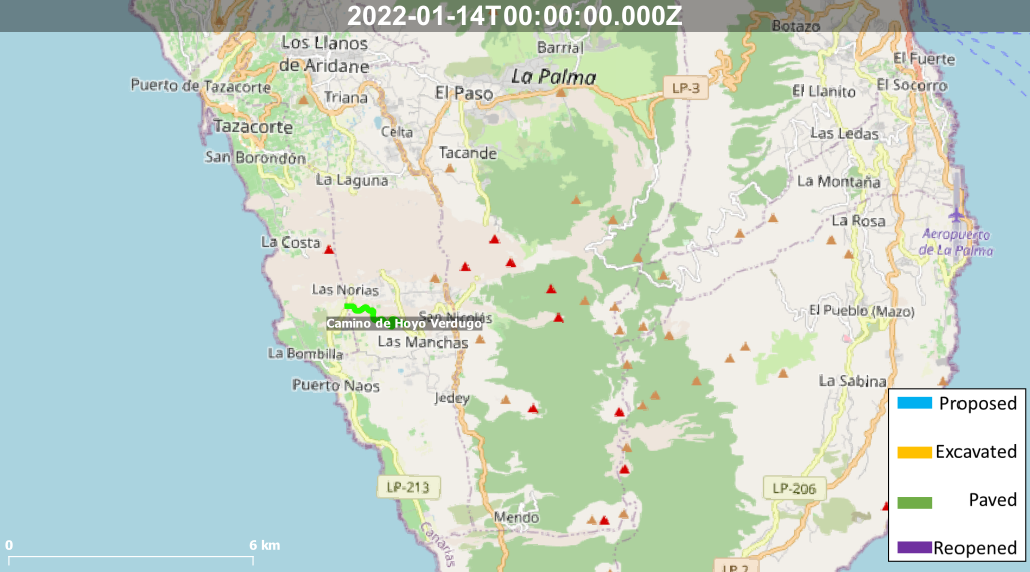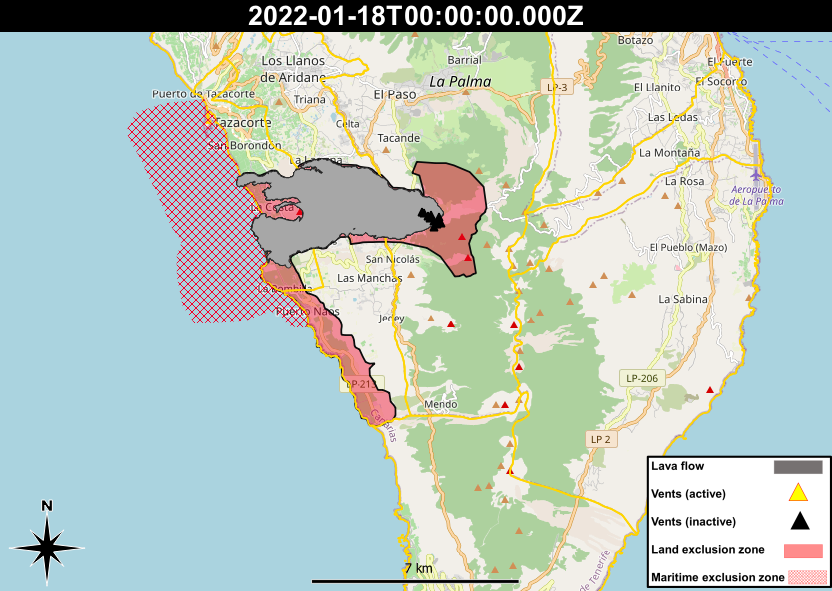 Access our archive of news articles here.
Interactive Road construction map
Come back soon to access this map.
Animated Exclusion zone map