25 Jan

La Palma eruption – 25th January 2022
La Palma eruption – 25th January 2022
In the last week, the island of La Palma has taken further steps towards its recovery from the volcanic eruption. Firstly, on the 19th January, it was announced by the Maritime authorities that the maritime exclusion zones off the western coast of La Palma would be reduced from two nautical miles to half a nautical mile between the towns of La Bombilla and San Borodón. Pending bathymetric studies of the new seafloor in the area, more adjustments of this zone may take place. This reduction allows for the reintroduction of most fishing activities in the area. Elsewhere, the Ministry of Agriculture, Livestock and Fisheries of the Government of the Canary Islands announced on the 24th a new pot of aid to compensate for loss of production in the fishing sector affected by the volcano.
Regarding reconstruction and the return of evacuated residents, the areas of Puerto Naos, La Bombilla and El Remo remain evacuated due to the persistent high levels of gases in these areas, although PEVOLCA is reinforcing the gas measurement network in these areas to better verify the dynamics of the gas concentrations. Work continues on reconstruction on two main roads affected by the volcano, the LP-2 to the east and San Isidro Highway to the west. Progress on the latter has been quicker owing to the lower temperatures and height of the lava flows, and a route connecting to isolated homes and banana farms has been created. Near the La Laguna crossing where reconstruction was first tested, the paths of multiple future roads are beginning to be traced across the lava flows. One of the next objectives of the reconstruction is to test the effects of asphalting these tracks across the lava flows. Another challenge of reconstruction has been recovering household water supply to the affected areas, although according to the Insular Water Council of La Palma this will be completed by the end of this month.
Sources: Government of the Canary Islands, PEVOLCA, El Time, RTVC
Access photography taken around this time
RTVC – Recovery of the San Isidro Highway – here
The exclusion zones and road construction plans shown here have been approximated from press releases from the Cabildo de La Palma and will not be exact, nor claim to be official maps of the exclusion zones and road construction. For official information, please contact the Cabildo de La Palma.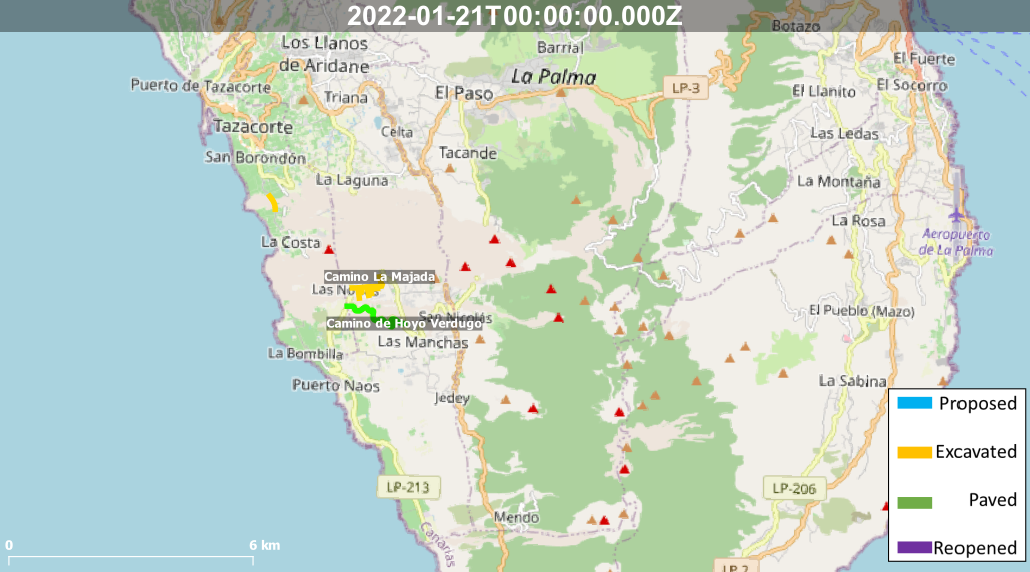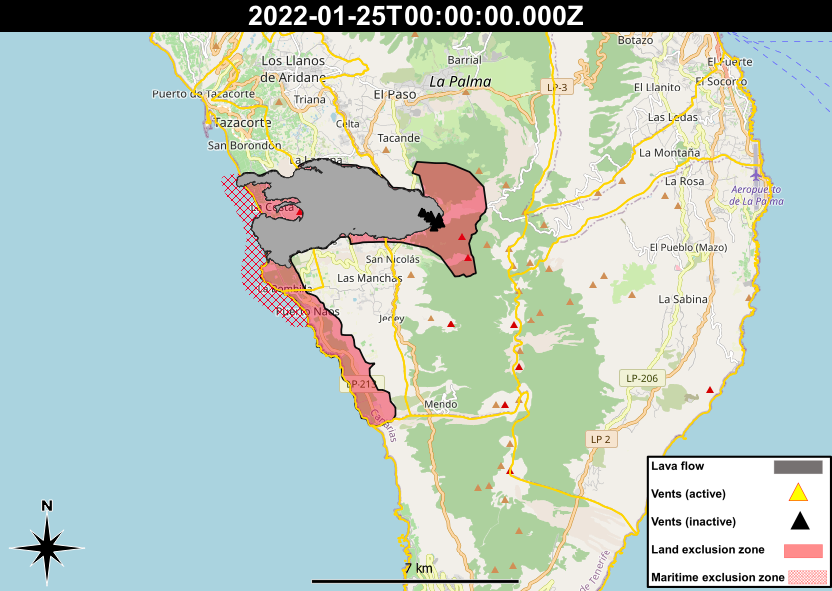 Access our archive of news articles here.
Interactive Road construction map
Come back soon to access this map.
Animated Exclusion zone map