18 Feb

La Palma eruption – 18th Feb 2022
La Palma eruption – 18th Feb 2022
The recovery of La Palma continues after the downgrade from the red alert level to the yellow level on the 31st January, which switched management of the recovery from the Canary Islands Government to the Island Council of La Palma. Despite the reduction in alert level, evacuees from the La Bombilla and Puerto Naos areas near the coast directly to the south of the lava flows remain unable to return due to very high levels of CO2 still being recorded in the area. The Civil Guard commented that these levels would present a significant health hazard if anyone were to stay in these areas currently. CO2 levels rather than SO2 levels remain high in these areas as CO2 is the second most-emitted gas from the cooling lava flows after water vapour, and the levels remain high because gases are still being emitted from the cone and lava flows as they cool. The CO2 is concentrated in these areas because they are in the path of the prevailing wind, and CO2 is denser than air so therefore hugs the ground in low, coastal areas.
Elsewhere, progress in the recovery in the form of building new access roads across the lava flow field has slowed down as the tracks reach thicker parts of the cooling lava flows. In these areas, the lava flows are likely to be hotter as well as less stable as they may contain empty lava tubes that could cause collapses of the roof of the flows. The plan is to map the interior of the lava flows and identify any potential areas of hazardous temperatures and stability before continuing. This is mostly affecting the attempt to connect La Laguna and Las Norias, whilst the track to re-connect La Laguna to Tazacorte is almost open and attempts to pave it will be made soon.
Finally, neighbourhood meetings have begun with councillors for the Cabildo de La Palma, to listen to the doubts, concerns and proposals from citizens regarding the reconstruction effort on the island. Around 300 people from Puerto Naos, El Remo, La Bombilla, Las Manchas, La Laguna and Todoque have participated in the first round of consultations.
Sources: Cabildo de La Palma, El Time
To see our full news archive, visit our open data section or click here.
Access photography taken around this time
Resiste La Palma – New connecting road between the LP211 and the LP213 – here
The exclusion zones and road construction plans shown here have been approximated from press releases from the Cabildo de La Palma and will not be exact, nor claim to be official maps of the exclusion zones and road construction. For official information, please contact the Cabildo de La Palma.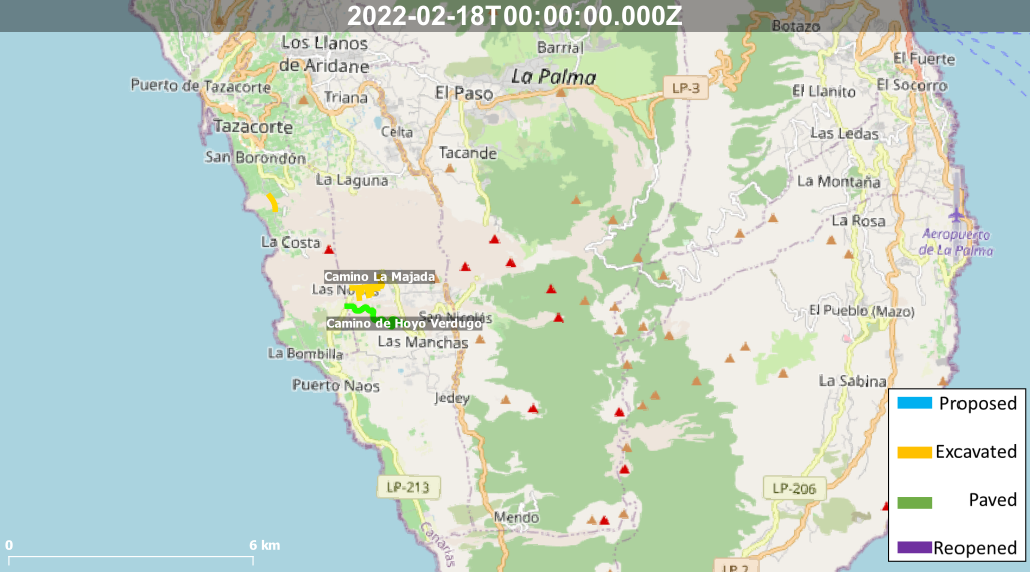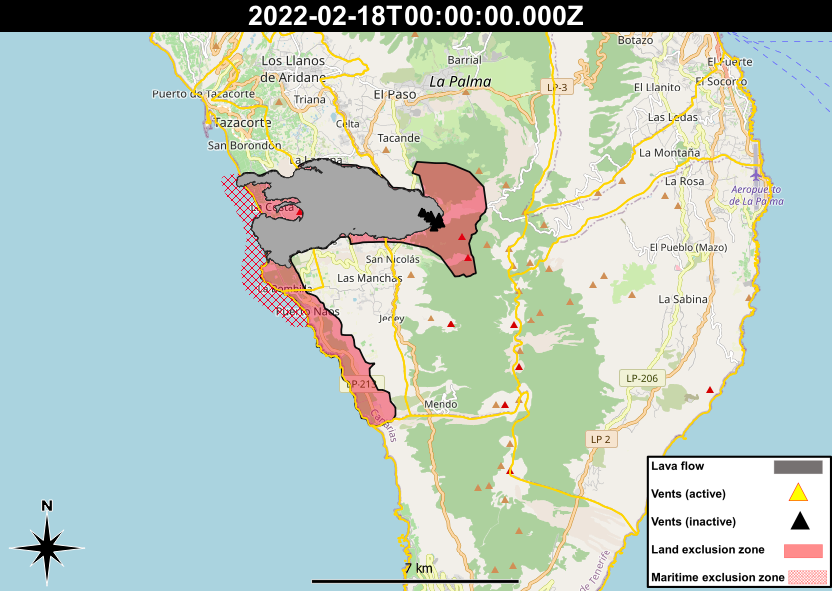 Access our archive of news articles here.
Interactive Road construction map
Come back soon to access this map.
Animated Exclusion zone map