04 Mar

La Palma eruption – 4th March 2022
La Palma eruption – 4th March 2022
After a couple weeks without forward progress, work on some of the new tracks across the lava flows, especially the one between along the coast La Laguna and Las Norias, could resume in the coming days. Work had stopped due to the need for studies of the safety and stability of the thicker parts of the lava flows where unstable lava tubes may exist: these studies have been undertaken by the Geological and Mining Institute (IGME) and are now being finalised. Regarding recovery away from the land, the Spanish Institute of Oceanography (IEO) have been investigating the changes to the underwater ecosystems impacting by the lava deltas. According to researcher Eugenio Fraile, there are already signs of life on some of the underwater rocks, and the beginning of the recolonization of the area has been quicker than expected.
Despite the eruption being finished for over 2 months, 463 people still remain housed in hotels. According to El Time, about 300 of these are thought to be people who have lost their homes but have not been compensated by the insurance consortium, due to reasons such as a lack of insurance or insufficient coverage in their insurance policy. The Council of La Palma has said it expects that with current progress in the assembly of temporary modular homes, all these people could be housed by the end of April. The remaining people in hotels are thought to be those without alternative accommodation choices who live in areas such as Puerto Naos, La Bombilla and El Remo where high gas concentrations prevent their return. The gas levels continue to be monitored both inside and outside in these areas, and at the end of February the Canary Islands Government provided four beacons and nine sensors to the Council of La Palma to further enhance gas monitoring. Currently, CO2 levels remain too high for a lifting of the evacuation order.
Sources: El Time, Government of the Canary Islands, Cabildo de La Palma
Canary Island Government – Vanoostende announces in La Palma aid for the reconstruction of the agricultural sector affected by the volcano – here
Canary Island Government – Authorised spending of €1.4M to activate emergency rental aid for those affected by the volcano – here
 To see our full news archive, visit our open data section or click here.
Access photography taken around this time

Resiste La Palma – Video tribute in gratitude to the Spanish Navy who transported Farmers across the island before the new roads were established – here
The exclusion zones and road construction plans shown here have been approximated from press releases from the Cabildo de La Palma and will not be exact, nor claim to be official maps of the exclusion zones and road construction. For official information, please contact the Cabildo de La Palma.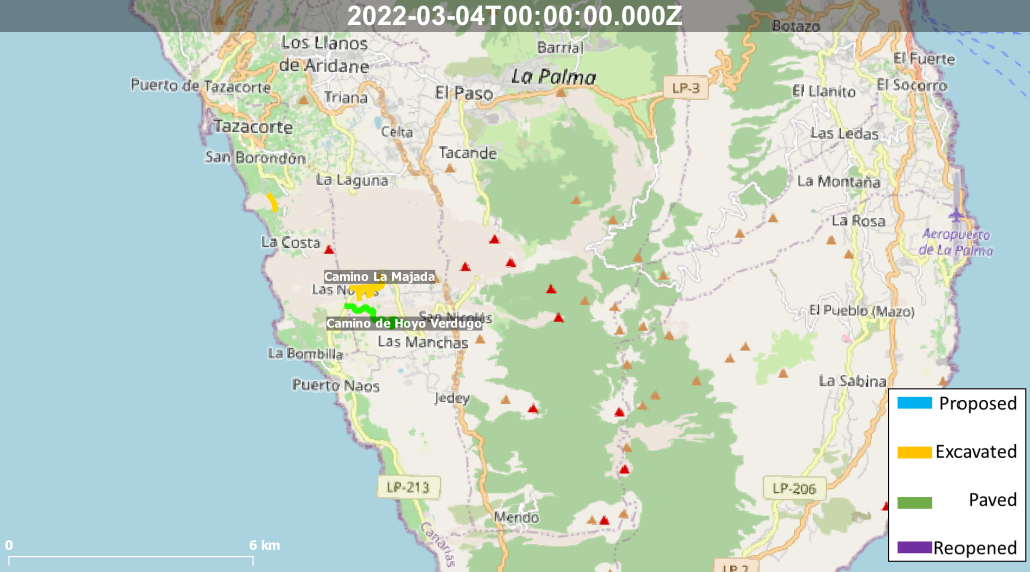 Access our archive of news articles here.
Interactive Road construction map
Come back soon to access this map.
Animated Exclusion zone map