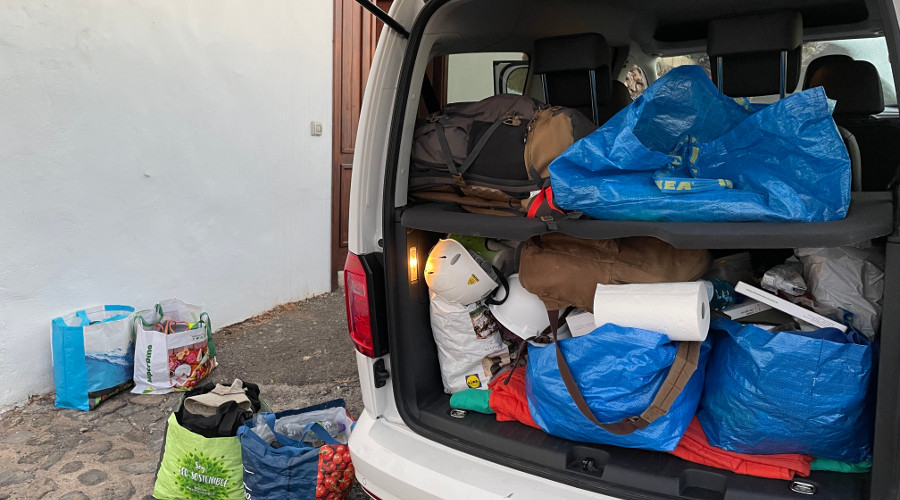 Today in Tenerife we finish our month-long GeoIntern programme, an intense summer training camp for Earth Science students. But instead of winding down and heading for the beach, we are anxiously packing up to head to La Palma to cover the ongoing volcanic eruption.
We're taking three of our students with us – time will tell if this was folly or not – but after seeing all their hard work and enthusiasm, it feels right.
It's after midnight, and we are still getting organised. What to take? I've bought gargantuan quantities of gloves, goggles, hand sanitiser and FFP2 masks. A flask for coffee. Walkie-talkies. A cool bag. And copious amounts of pot noodles (something we'd never normally eat at home). I've warned everyone that on the trip food will be simple and, I expect, prepared in the short window after a long day out in the field and before collapsing into bed.
The lady at the local ferretería raises an eyebrow at my stash of masks, goggles et al. "Are you going to la Palma? Bless you. If you don't use all of this, you can drop it off at the Pabellón Municipal – that's where they are taking donations for the locals. Let me discount your bill for you. God speed. Not sure I'd want to be headed there, those poor people. We can't stop thinking about it."
We are a band of 7: me; our field trip coordinator Ignacio Garcia; our resident expert Alexis Schwartz; our photographer Eduardo García and three of our GeoIntern students: Ben Ireland (a volcanology masters graduate from Bristol University); Rosie Rice (a geography student at Cambridge University) and Ryan Bailey (geography and natural hazards grad from Coventry University). 
They have been warned to expect the unexpected.
At home in Tenerife we have been glued to the TV coverage of the eruption. At first, all the talk was of a "spectacular show" but a local backlash has rightly focussed regional reporting onto the plight of locals whose homes and crops are being swallowed by the ever-encroaching, towering rivers of lava. No, not rivers. Cracking, rocky mounds that inch over and crush everything in their path. Relentlessly. The news is wall-to-wall despair: goats being herded into vans; ash being cleared by snow ploughs. I'm told it takes only a few centimetres of ash on a flat roof to collapse a house, and even less if it gets wet. We see firemen with brooms on rooftops on TV, sweeping. Relentlessly sweeping. 
As I write these words, David Calvo is on the news. The Involcan spokesperson with whom only a week ago we ran a "live eruption reporting " exercise with our GeoIntern students, using real data from the submarine eruption in El Hierro in 2011 as part of our SciComm training this month. Over two hours, we threw updates, mock press conferences with David and reams information at the students, challenging them to pick out the bits of relevant news and package them up into press releases for publication to short, tight deadlines. It was intense, but as realistic as we could stage. Just a few days later, our students have been putting their newly-forged Science Communication skills to work as the neighbouring island of La Palma erupted for real. And the most successful of them are going across to the neighbouring island, where the volcano roars on, day and night. 
I am always amazed at how quickly our students grow in stature and confidence during their month with us. But there has been a further step-change since the start of the eruption. Sombre at times, the mature reflection and realisation of what an eruption, live on the doorstep, actually entails in everyday terms. But also awe, and of course excitement. This is what they have been studying and interpreting, from books, rocks and deposits. The chance to see it up close is intoxicating.
Amazingly, today I was contacted by two previous GeoInterns, Helen and Pam (who had spent their month with us carrying out volcano monitoring on La Palma itself with our colleagues at Involcan) to say they are hoping to travel to La Palma themselves in the coming days. It's a proud moment. The girls who were with us 7 and 8 years ago are now successful young scientists in their own right. And I could not be happier for them. 
We have also been contacted by some media outlets wanting interviews and commentary on the volcanic eruption. To date our resident expert, Alexis Schwartz has been interviewed on BBC Radio 4; Channel 5 news; Newstalk Radio with Pat Kenny (Dublin) and Primer Hora, a news programme broadcast from Caracas throughout the region on vivoplay.net and TVV in the US.
The Channel 5 news broadcast caught us yesterday as we were working in Teide National Park on the final week of our GeoIntern programme, so we lined up all the students in the background of the shot so they could have a spot on TV, even if at a distance. In retrospect, the result is, of course, a little comical. The setting is dramatic by Fasnia volcano, but it is difficult for any eagle-eyed observer to see how any actual measurements could be taken with all the students working so closely together. But it is our first TV broadcast and we want everyone to be involved. So I set up the iPhone on our tripod, connect by Zoom, and huddle across the mic end to stop freak gusts interfering with the broadcast. Thankfully we are in a little-transited area of the National Park, as any passerby would wonder what the hell was going on.
Incredibly, Channel 5 take the time to (meticulously) rub off the "GeoTenerife" logo from each and every one of their high vis jackets – the idea of someone in a production studio somewhere doing that actually makes me giggle. The fact that Channel 5 doesn't feel it is appropriate to credit GeoTenerife in Alexis' tagline smarts, but they have left a logo visible right at the end so I content myself with that. But in future I resolve to make it clear that if we are to give up hours of our work time to enable a connection and commentary, the least they can do is credit us in the proper manner. Alexis grumbles that he has been edited and part of what he explains has been clumsily removed. He's right.
A producer from Good Morning Britain contacted us, and I put them in touch with Alexis. I tell them that shortly we will be in La Palma so it may be better to wait a day or two before speaking to him? But they insist. They record a long segment for the following day's programme over the phone.
The preparations for departure are complete so we go to bed, but sleep little. I pack and repack our bags in my mind, and wonder what tomorrow will bring. Because tomorrow we set off for La Palma and the eruption.
LA PALMA eruption interviews