18 Mar

La Palma eruption – 18th March 2022
La Palma eruption – 18th March 2022
Reconstruction and recovery continue on La Palma, with some of the latest news being the Island Council of La Palma announcing that €10 million from the donations they have received will be mobilised to families registered in the single registry who have lost their homes to the volcano. The aid will total €10,000 per family and will supplement other aid families may have already received for reconstruction. Elsewhere, figures by the Island Council show that a total of €191,000 has been paid to students affected by the eruption, with €1,000 per student being allocated. In other news, new signs have been put up around the perimeters of the lava flows warning of the danger from gases and residual heat, and the authorities are in the process of creating a designated route for those authorised to access the main cone of the inactive volcano.
Regarding recovery, works on the new roads across the lava flows continues, and the development of 11 new homes have been approved in the Breña Baja area by the Canary Islands Housing Institute (ICAVI) and will be aimed to be finished in 22 months. Elsewhere, near Puerto Naos, the council have signalled that a new additional desalination plant will be constructed near the coast to help meet the targets for water delivery to plantations in the area, many of which have been affected by the eruption due to the ash, gases or a lack of water supply. However, further demonstrations have taken place about the current progress of the reconstruction plan from the association of those affected by the volcano. According to the El Time newspaper, their concerns include the lack of direct public participation in the drawing up of recovery plans, and an associated lack of transparency and communication about key issues, for example which routes are being considered for a new coastal road across the cooled lava flows.
Sources: Cabildo de La Palma, El Time
Canary Islands Government – The administrations raise aid to families who lost a home due to the volcano to 100,000 euros – here
Canary Islands Government – The Government extends the Emergency credit by 2.9 million euros to pay expenses generated by the eruption – here
To see our full news archive, visit our open data section or click here.
Access photography taken around this time
Resiste La Palma – Drone photography of reconstruction works of the La Laguna neighbourhood – here
The exclusion zones and road construction plans shown here have been approximated from press releases from the Cabildo de La Palma and will not be exact, nor claim to be official maps of the exclusion zones and road construction. For official information, please contact the Cabildo de La Palma.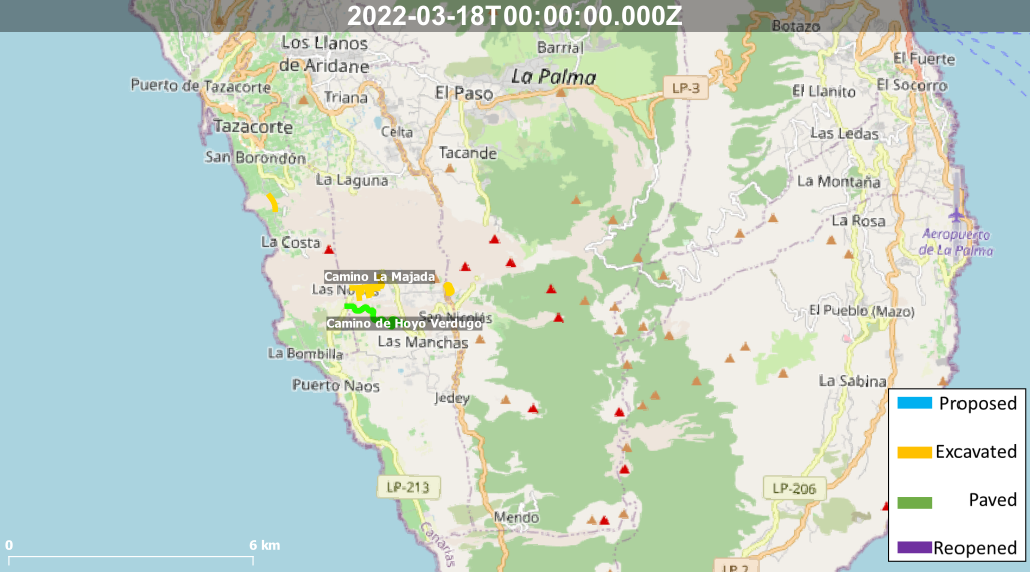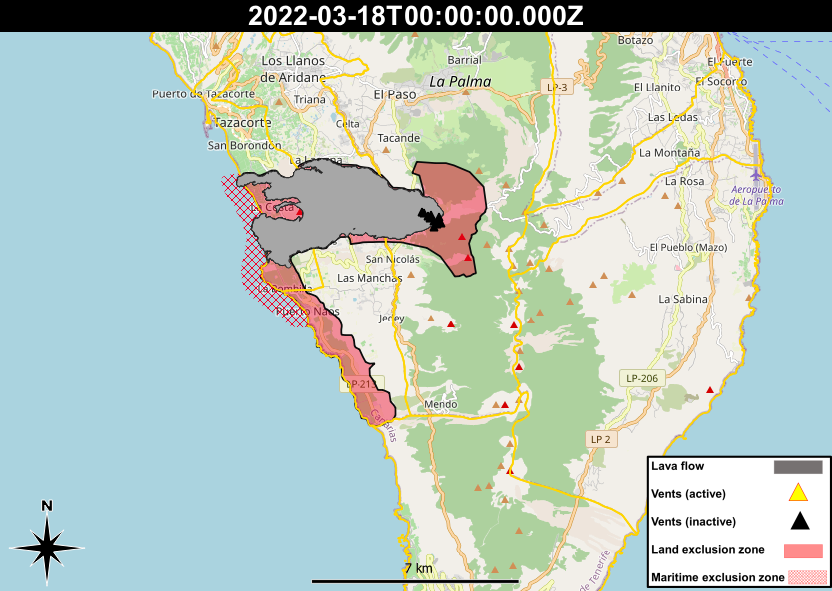 Access our archive of news articles here.
Interactive Road construction map
Come back soon to access this map.
Animated Exclusion zone map