25 Mar

La Palma eruption – 25th March 2022
La Palma eruption – 25th March 2022
Since the 24th, earthquake activity has increased in La Palma, although according to IGN Spain and INVOLCAN these earthquakes are from a hydrothermal source, to do with the high-pressure circulation of water at shallow depths beneath the surface, rather than a magmatic source. As of the 25th, there have been approximately 70 earthquakes between 10-15 km depth peaking at a mbLg 3.1, and they can be differentiated from magmatic earthquakes due to their different frequencies. These earthquakes represent a natural and expected process during the cooling of a magmatic system such as this.
The return of the people evacuated from the coastal towns to the south of the lava flow field moved a step closer on the 21st, when the Cabildo de La Palma approved the lowering of a control point from the La Muralla area to the crossing of La Bombilla. This will enable free access to new areas with the hope of enabling access by land to the areas of Chaco Verde and El Remo, which cannot currently be accessed as the access route travels through La Bombilla and Puerto Naos, which remain closed due to high CO2 concentrations.
In other reconstruction news, a tender has been opened for the reconstruction of a new road connecting the areas north and south of the lava flow field. The road is expected to be 5.5 km length and travel between Puerto Naos and Tazacorte, linking to the existing LP-213 road. The project is expected to cost €38 million, although a timescale for its completion has not yet been agreed upon.
Sources: Cabildo de La Palma, Onda Cero, El Time, INVOLCAN, IGN Spain
El Pais – La Palma, six months after the eruption: the volcano no longer roars but the nightmare remains – here
Canary Island Government – Franquis: "The construction of the new road will mean recovering normal mobility in La Palma" – here
Canary Island Government – The Canarian Government pays an advance of 1.1 million to banana producers affected by the volcano – here
To see our full news archive, visit our open data section or click here.
Access photography taken around this time

Resiste La Palma – Drone photography of reconstruction works of the La Laguna neighbourhood – here
The exclusion zones and road construction plans shown here have been approximated from press releases from the Cabildo de La Palma and will not be exact, nor claim to be official maps of the exclusion zones and road construction. For official information, please contact the Cabildo de La Palma.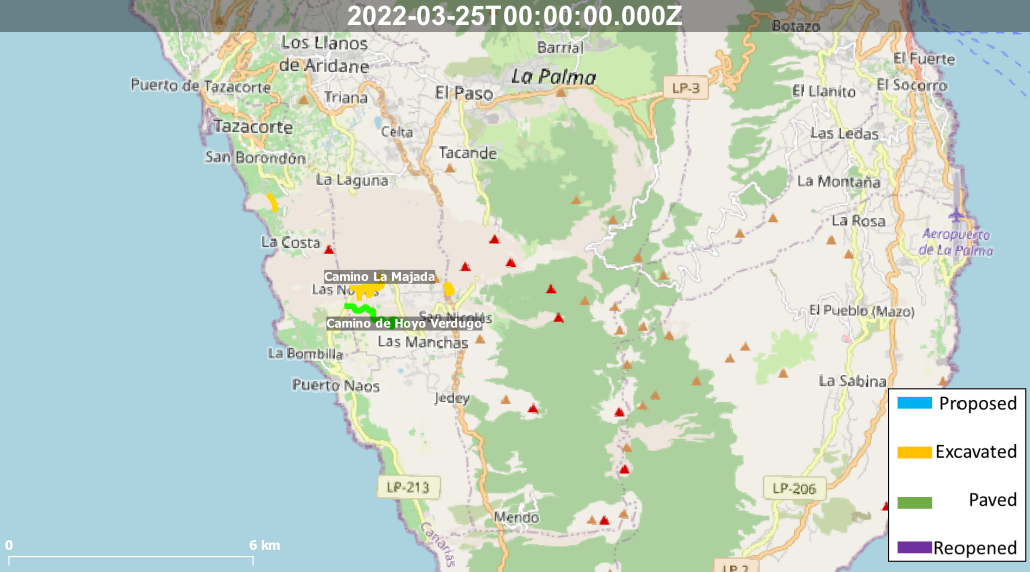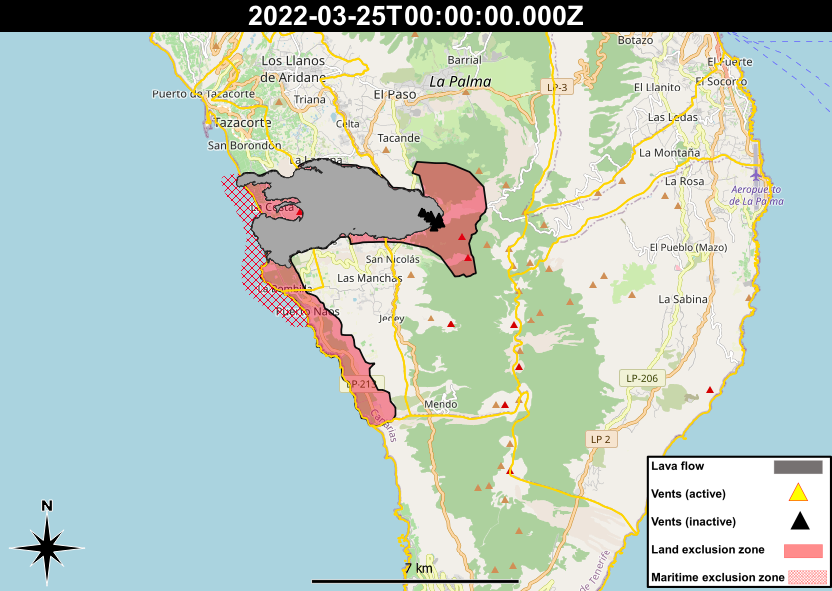 Access our archive of news articles here.
Interactive Road construction map
Come back soon to access this map.
Animated Exclusion zone map