01 Apr

La Palma eruption – 1st April 2022
La Palma eruption – 1st April 2022
An improvement of conditions has allowed for the reduction in exclusion zones close to the lava flows. The areas opened are shown in the map provided by the Cabildo (pictures 1 and 2), however La Bombilla and Puerto Naos still remain in the exclusion zone, due to continuing high CO2 levels being recorded in the area.
Many new roads are starting to be approved, with the route for a road connecting the north and south of the lava flow field being announced (picture 3). The route has been created taking into account studies of the topography, temperature and stability of different parts of the lava flows by IGME and other authorities. The route will connect La Laguna and Las Norias and is slated to be 3.3 km long. Work on the road will begin from both sides on the 4th April of the lava flows to speed up its construction.
A second road across the full extent of the lava flow field, the coastal road, will begin construction on the 18th April for 5 months. The new road will be 5.5 km long and connect Puerto Naos in the south to Argual in the north and has a budget of €38 million.
Lastly, the La Majada road opened for traffic after works completed to excavate the lava flows from on it. This will open access to more than 30 homes that were isolated due to the lava flows. This road will also be connected to the new road completed between Las Manchas and Puerto Naos.
In other news, it has been announced that the tourism industry in La Palma showed the highest growth out of all the Canary Islands in the period between 2019 and 2022, which could help the economic recovery after the volcanic emergency.
Sources: Cabildo de La Palma, El Time
Canary Islands Government – The University Hospital of La Palma participates in a talk on the emotional effects of the volcanic eruption – here
Canary Islands Government – Ecological Transition enables a web portal on the territorial framework for the recovery of La Palma – here
Canary Islands Government – The CIRPAC of La Palma analyzes mental health services to address the effects of the pandemic and the eruption – here
To see our full news archive, visit our open data section or click here.
Access photography taken around this time
Resiste La Palma – Drone photography of showing the status of road recovery works in the Todoque area in April of 2022 – here
The exclusion zones and road construction plans shown here have been approximated from press releases from the Cabildo de La Palma and will not be exact, nor claim to be official maps of the exclusion zones and road construction. For official information, please contact the Cabildo de La Palma.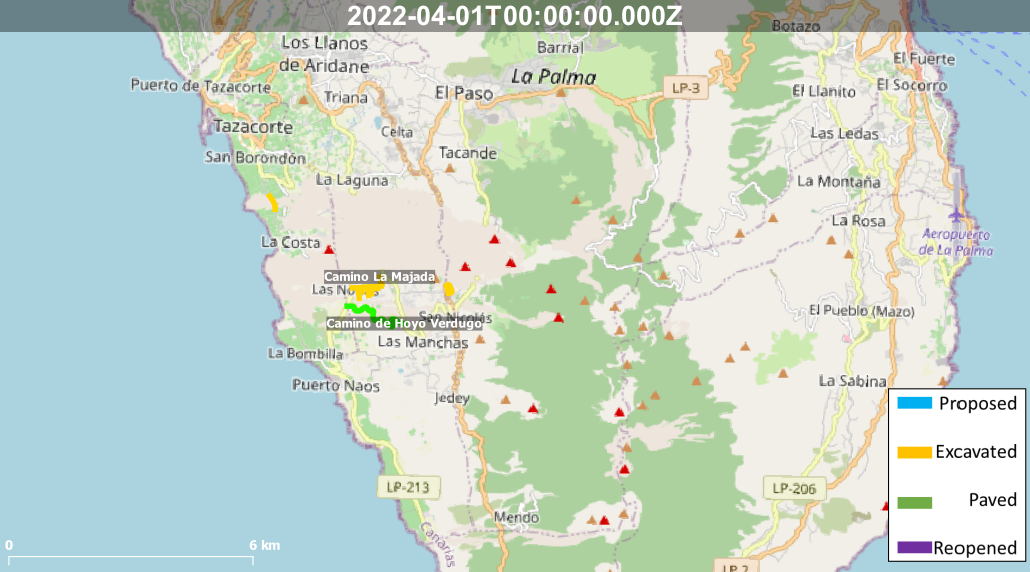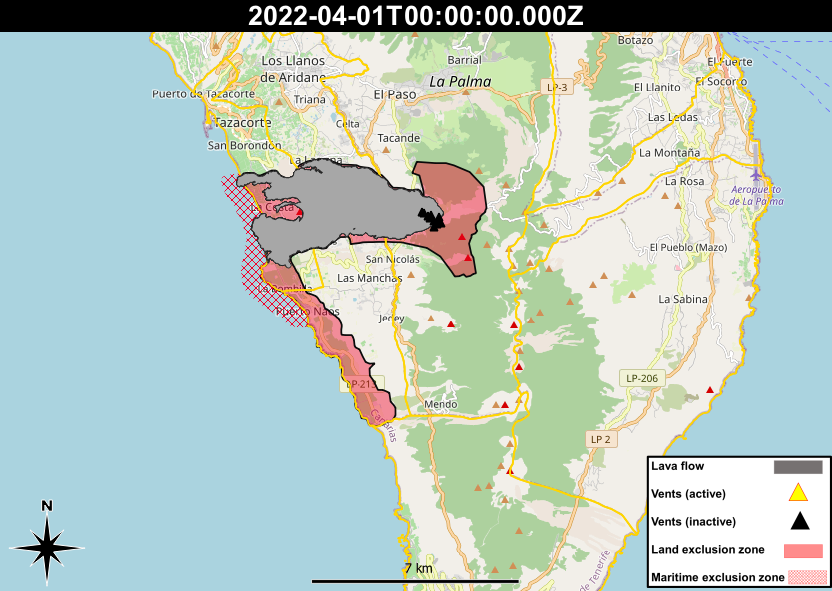 Access our archive of news articles here.
Interactive Road construction map
Come back soon to access this map.
Animated Exclusion zone map