08 Apr

La Palma eruption – 8th April 2022
La Palma eruption – 8th April 2022
Work started on the new road across the lava flows connecting La Laguna and Las Norias on Monday from both sides and has made much quicker progress than expected. The entire 3.3 km road has been slated to take around 5 months, although in just a few days almost half of the route has been completed, with 700-800m being completed in both of the current sections being worked on. Future progress will depend on the conditions of the lava flows however, with temperatures of 400 degrees Celsius being recorded at few shallow depths in the flows a few areas, and gases may still pose an issue in some areas.
Progress towards the other main road across the lava flows, to replace the old coastal road, has stalled after the proposed route was released by the Cabildo de La Palma. The neighbourhood association representing those affected by the volcano were concerned that the route would mean the expropriation of some damaged houses in the exclusion zone, as well as some banana plantations abandoned for the time being due to the volcano. After protests in Los Llanos and delivering a 1,500 signature petition to the government, the Government of the Canary Islands has indicated it is open to the possibility of modifying the proposed route to account for these concerns.
Finally, on Thursday, guided routes to the volcano started, less than 4 months after the eruption ended. These tours will be operated through authorised companies and will go along to the Cabeza de Vaca track to a point on the volcanic cone which is described as 'near but safe'. It is hoped that by keeping tourists to prescribed routes and companies, this new 'volcano tourism' can have a positive economic impact for the island whilst being done in a respectful and sustainable way.
Sources: Cabildo de La Palma, El Time
To see our full news archive, visit our open data section or click here.
Access photography taken around this time
Resiste La Palma – Basalt along the LP2 road exposed during road construction- here
The exclusion zones and road construction plans shown here have been approximated from press releases from the Cabildo de La Palma and will not be exact, nor claim to be official maps of the exclusion zones and road construction. For official information, please contact the Cabildo de La Palma.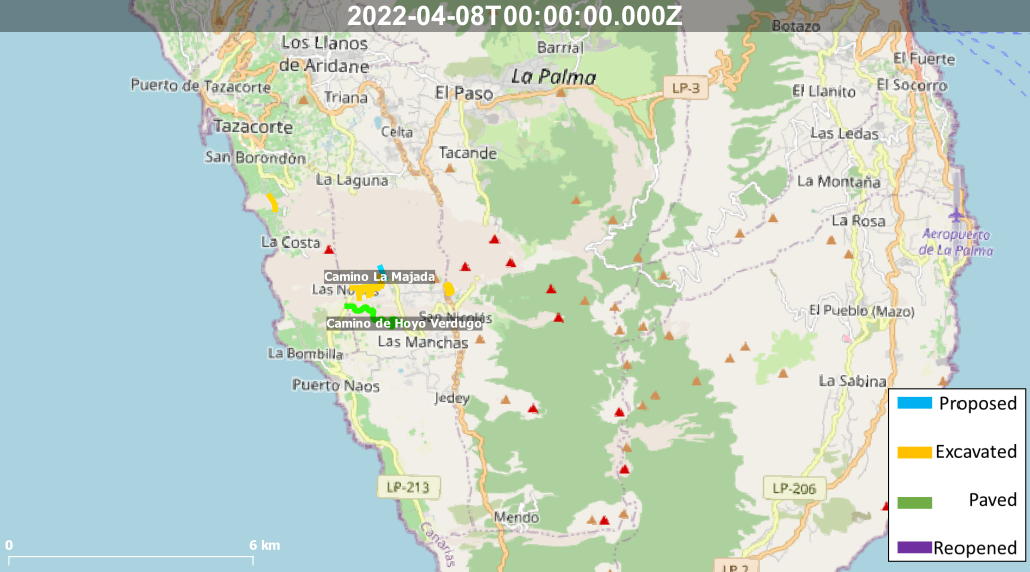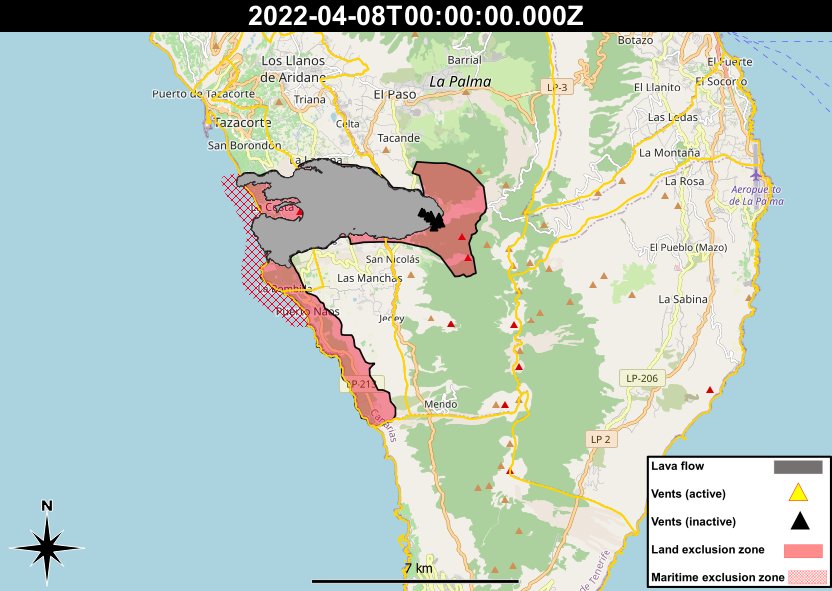 Access our archive of news articles here.
Interactive Road construction map
Come back soon to access this map.
Animated Exclusion zone map