15 Apr

La Palma eruption – 15th April 2022
La Palma eruption – 15th April 2022
After works that began the day after the eruption was declared over on the 25th December, the La Laguna crossing has been reopened to traffic, after the lava flow covering it was removed and the road was re-tarmacked to allow all vehicles to use it. This reopens a key connection to the north of the lava flow between the towns of La Laguna and Tazacorte. In other news, with 80 hectares of isolated agricultural areas between La Laguna Mountain and Todoque Mountain being reconnected by the new San Isidro Road last month, work has begun to restore irrigation to these areas. The work will allow for the recommencing of banana plantations and is expected to cost €1.4 million and take around 5 months. Plans are in place to re-connect more damaged irrigation works, with 260 hectares of banana plantations along the coastline between Las Hoyas and El Remo being the next area to be targeted.
Elsewhere, on Wednesday the evacuated residents from Charco Verde and El Remo, on the coastline to the southwest of the lava flow field were allowed to return home, 4 months to the day since the eruption ended. However, the areas of Puerto Naos and La Bombilla still remain evacuated due persistent dangerously high CO2 levels. The source of this CO2 is reported to be mostly due to diffuse degassing through cracks in the area, and at times the CO2 concentrations have exceeded 50,000 ppm (normal values around 425ppm). According to El Time, it is still uncertain whether these high gas levels could persist for weeks, months or even longer.
Sources: Cabildo de La Palma, El Time, RTVC
To see our full news archive, visit our open data section or click here.
Access photography taken around this time

Resiste La Palma – Jedey neighbourhood, El Paso on October 9, 2021 and on April 18, 2022 – here
The exclusion zones and road construction plans shown here have been approximated from press releases from the Cabildo de La Palma and will not be exact, nor claim to be official maps of the exclusion zones and road construction. For official information, please contact the Cabildo de La Palma.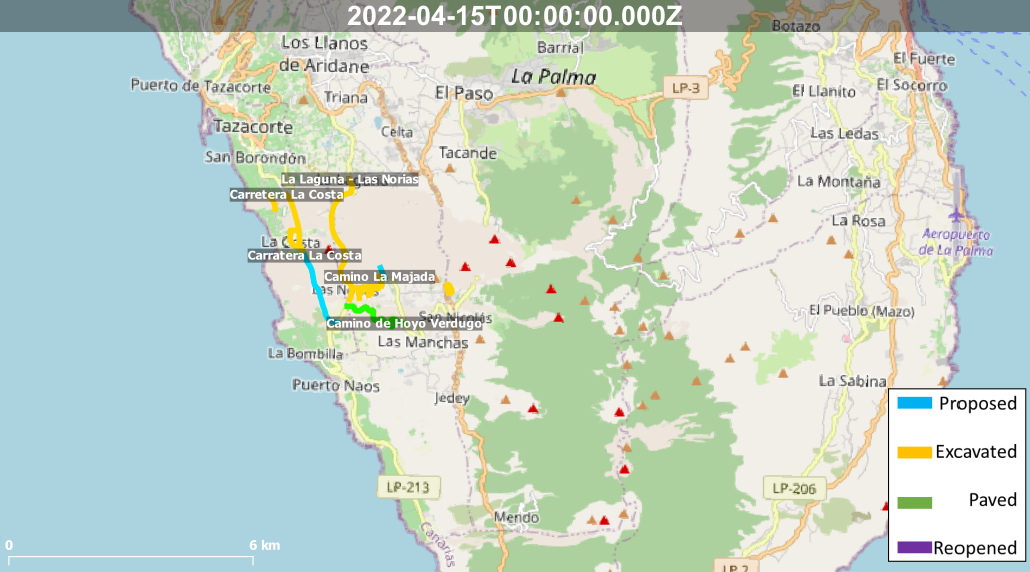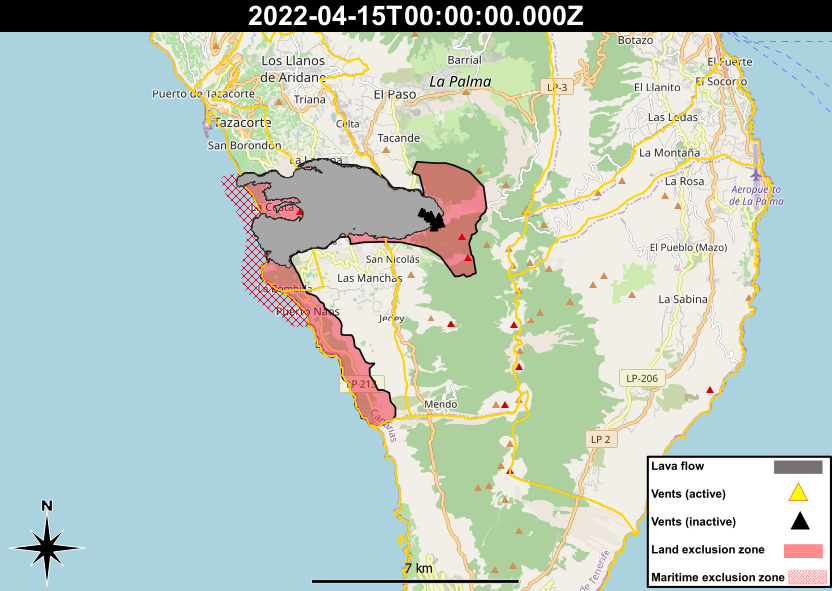 Access our archive of news articles here.
Interactive Road construction map
Come back soon to access this map.
Animated Exclusion zone map