22 Apr

La Palma eruption – 22nd April 2022
La Palma eruption – 22nd April 2022
For the first time since September, controlled access to Puerto Naos for some residents was allowed. This was supervised and residents had a maximum of 45 minutes in the area, only when gas concentrations were low enough. Both Puerto Naos and La Bombilla remain evacuated due to persistently high CO2 concentrations, due to CO2 from cooling magma escaping through fractures in the soil caused by the earthquakes associated with the eruption, according to IGN Scientist Stavros Metetlidis. Elsewhere, in the main cone, temperatures between 950 and 1050 degrees Celcius are measured by IGN a few metres below the surface, illustrating how slowly it cools.
Regarding roads, work began on Monday on the €40 million new coastal road across the lava flow field, which should cater for 20,000 cars per day and only affect 3.2 hectares of farmland with the proposed route. Work also began to recover several roads in Las Norias to reconnect 20 homes isolated by the lava flows. To further enhance citizen participation in the recovery efforts and management, the Cabildo have announced a new Sectorial Council will be created, after a request from the Citizen Support Initiative.
The smouldering volcano still provides many opportunities for new scientific research. Two current investigations include evaluating the effect of the volcanic activity for fisheries management by the University of Las Palmas de Gran Canaria and other, and analysing the composition and potential 'bioconstruction' applications of the ash and lava being undertaken by CSIC.
Sources: El Time, Cabildo de La Palma, IGN Spain
To see our full news archive, visit our open data section or click here.
The exclusion zones and road construction plans shown here have been approximated from press releases from the Cabildo de La Palma and will not be exact, nor claim to be official maps of the exclusion zones and road construction. For official information, please contact the Cabildo de La Palma.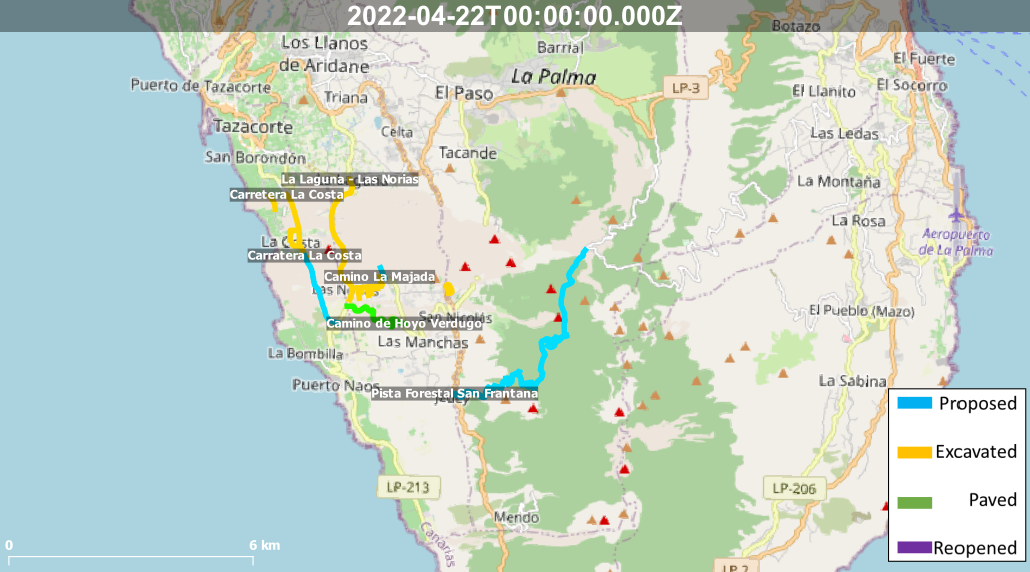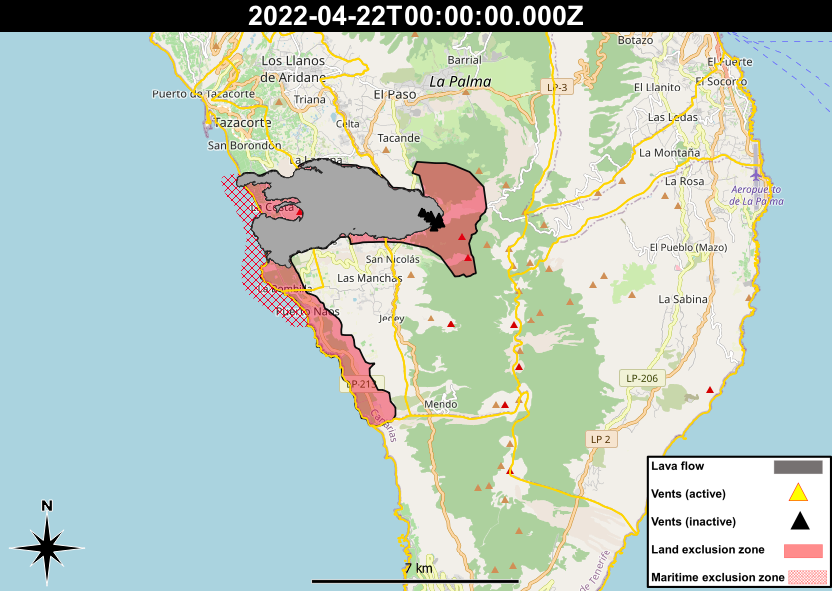 Access our archive of news articles here.
Interactive Road construction map
Come back soon to access this map.
Animated Exclusion zone map