29 Apr

La Palma eruption – 29th April 2022
La Palma eruption – 29th April 2022
In the area of Las Hoyas, near where the lava flows famously flowed down the cliffs onto the lava delta formed by the 1949 eruption, more areas have been reopened for restricted use by farmers and irrigators to tend to crops in the area. 37 more fanegas (1 fanega = 1.59 acres) have been opened in addition to the 87 which have recently been opened.
30 fanegas in the Las Hoyas area still remain closed due to the presence of high gas levels however, as well as the population centres of La Bombilla and Puerto Naos.
Regarding roads, works have continued on many projects across the lava flows and close to the volcano.
Emergency work has begun this week on the adaptation and paving of the Fran Santana forest track, which will provide an alternative connection to the Aridane Valley for those in Jedey and Las Manchas, two of the communities closest to the volcano to the south. It is estimated to take 2.5 months and cost €1.2 million.
To aid the many projects crossing the cooling lava flows, CSIC have now developed thermal maps of the lava flows, which can help to understand which areas are cooling the fastest, and which parts of the lava flow field would be the least problematic to work across.
They have also developed a similar tool which identifies the location of lava tubes within the lava flow field, which can help authorities identify parts which may be less stable than others.
In terms of housing, 14 of the municipal mayors of La Palma have asked for plans for the housing of those affected by the volcano and future tourism development around the volcano.
Similarly, according to El Time, Nieves Lady Barreto has called on the Government of the Canary Islands to think about permanent housing solutions now, as there are still affected people waiting on temporary housing solutions.
Sources: El Time, Cabildo de La Palma, IGN Spain, CSIC, Government of the Canary Islands
To see our full news archive, visit our open data section or click here.
The exclusion zones and road construction plans shown here have been approximated from press releases from the Cabildo de La Palma and will not be exact, nor claim to be official maps of the exclusion zones and road construction. For official information, please contact the Cabildo de La Palma.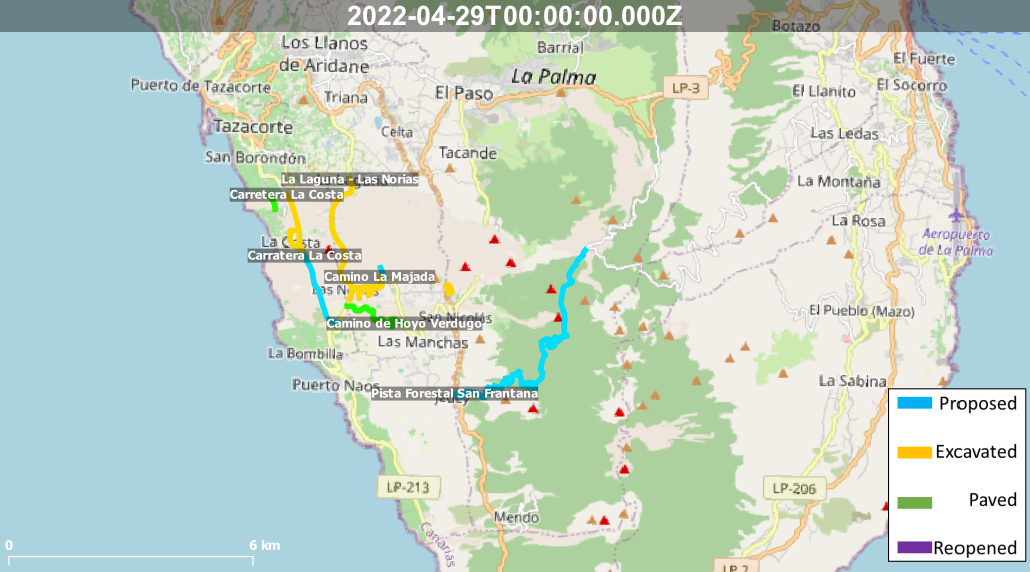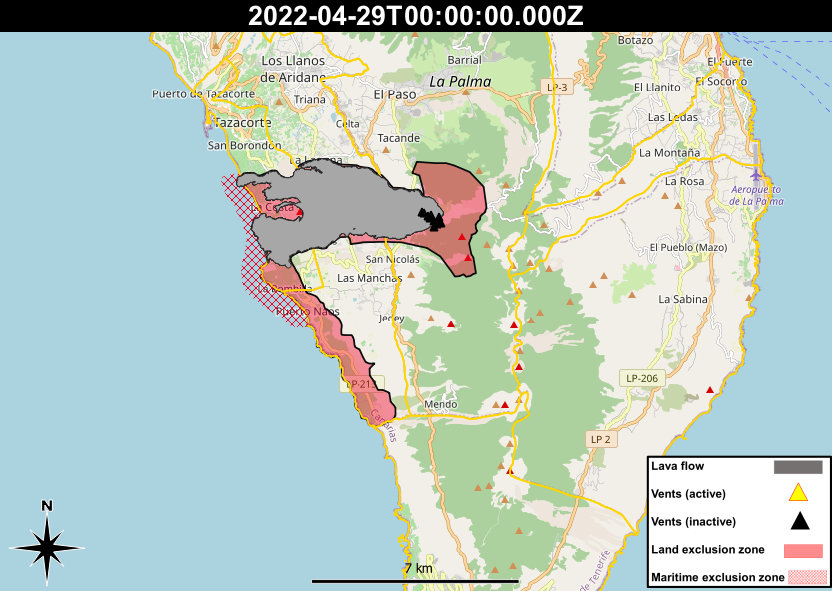 Access our archive of news articles here.
Interactive Road construction map
Come back soon to access this map.
Animated Exclusion zone map