06 May

La Palma eruption – 6th May 2022
La Palma eruption – 6th May 2022
A comprehensive summary of the aid spending so far in La Palma has been published by El Time, indicating that €457 million has been delivered to those affected by the volcano. €205.6 million of this is reported to have been spent on housing and accommodation, whilst other significant investments include €83 million to employment support, €61 million to the Employment and Training Plan (creating 1,600 jobs), and €62 million to affected businesses, including €14.63 million to the banana industry. In terms of applications for aid to the Register of Affected People, 6,667 have been received, and 90% are underway, with 86% of these have been completed.
In terms of roads, the Camino San Isidro has now been fully recovered from the lava. The first 370 m section was completed earlier this year, and the second 72 m section was finished this week after difficulties due to the nature of the terrain. So far, 4 roads have been unblocked from the lava; the Camino San Isidro, the Cruce de La Laguna, Camino La Majada, and the Camino de La Aldea. The two roads across the lava flow field, the new coastal road and the La Laguna – Las Norias road, remain under construction.
Elsewhere, the Minister of Public Works and Housing for Government of the Canary Islands has announced that a rent cap will be brought in on La Palma, although no dates or detailed plans have been presented. This has been announced to combat rising rents due to the lack of availability after the eruption, and existing rising rents in touristic areas. On tourism, it has been announced that overnight stays in La Palma were down 72% in the first quarter of 2022 compared to 2019, thought to be due to a combination of the eruption and the pandemic. However, the famous 'Route of the Volcanoes' hiking trail has just reopened, having been closed since September 2021 due to the volcano.
Sources: El Time, Cabildo de La Palma, Government of the Canary Islands
To see our full news archive, visit our open data section or click here.
The exclusion zones and road construction plans shown here have been approximated from press releases from the Cabildo de La Palma and will not be exact, nor claim to be official maps of the exclusion zones and road construction. For official information, please contact the Cabildo de La Palma.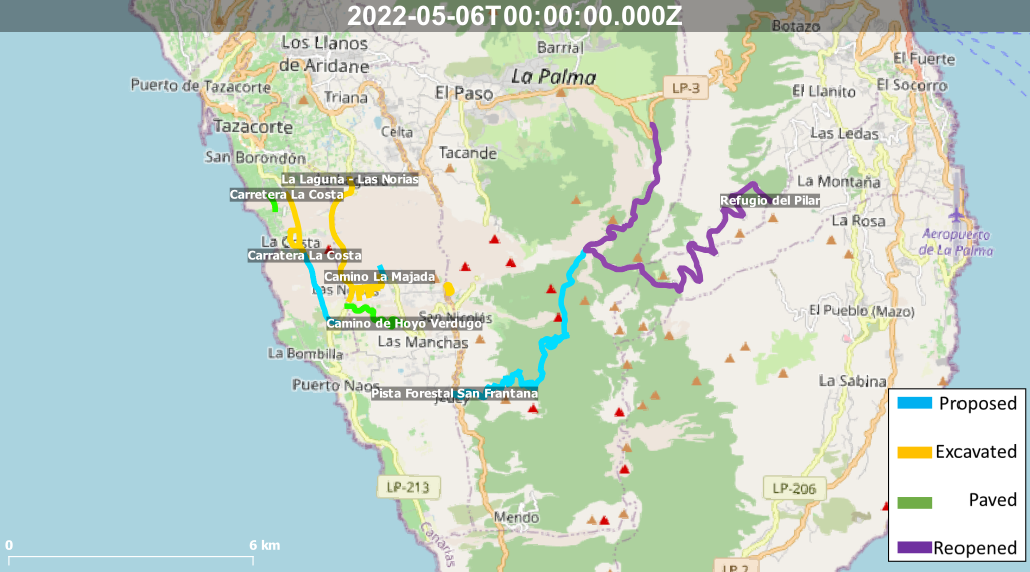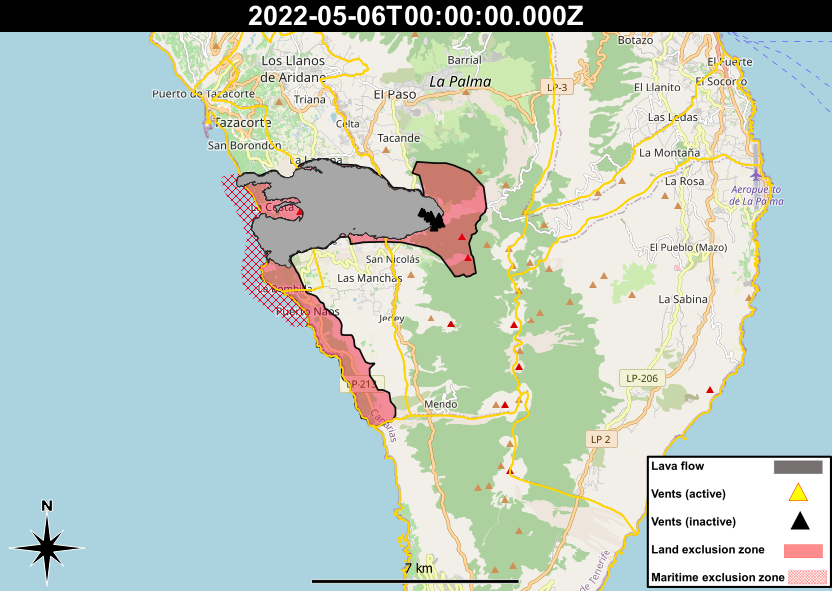 Access our archive of news articles here.
Interactive Road construction map
Come back soon to access this map.
Animated Exclusion zone map