13 May

La Palma eruption – 13th May 2022
La Palma eruption – 13th May 2022
On Wednesday, the Cabildo de La Palma further reduced the exclusion zone around the volcano, and has mapped for the first time the restricted areas, where limited access is available for people such as scientists and irrigators. The restricted areas include parts of La Bombilla and Puerto Noas and also areas isolated by the lava flows between Montaña Todoque and Montaña La Laguna.
The Canary Islands Government has estimated that within two months the last evacuated families still living in hotels will be in new emergency accommodation. According to the Minister of Public Works, Transport and Housing, 344 homes have so far been appropriated for those affected by the volcano, including 259 modular or wooden temporary homes (112 delivered, 147 pending delivery), and 85 homes for rent. The government are currently struggling to find more available rental accommodation in the three affected municipalities for affected people, so 87 families have been offered rental accommodation elsewhere on the island.
The Government also announced they estimate the reconstruction plan will take 2-3 years, and that families who lost their homes will receive €100,000 in aid in total (€60,000 from the Spanish Government, €30,000 from the Canary Islands Government, and €10,000 from the Island Council of La Palma). More details of the reconstruction plan should be published in June when the definitive reconstruction plan is due for approval.
To ensure that the interests of the affected people are considered in the reconstruction process, 11 associations have now formed as platforms for the affected people. Recently, demonstrations have been held related to the controversial proposed route of the new coastal road, as it would expropriate some of the little remaining farmland isolated by the lava between Montaña Todoque and Montaña La Laguna.
Sources: El Time, Cabildo de La Palma, Government of the Canary Islands
To see our full news archive, visit our open data section or click here.
Access photography taken around this time
Resiste La Palma – Drone photography taken of the lava flows on the 10th May 2022 – here
The exclusion zones and road construction plans shown here have been approximated from press releases from the Cabildo de La Palma and will not be exact, nor claim to be official maps of the exclusion zones and road construction. For official information, please contact the Cabildo de La Palma.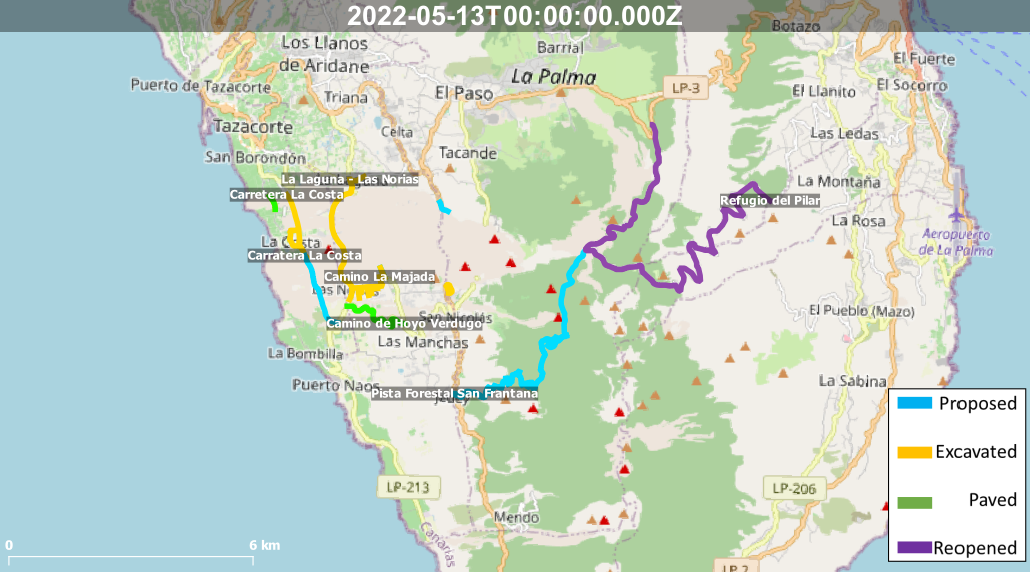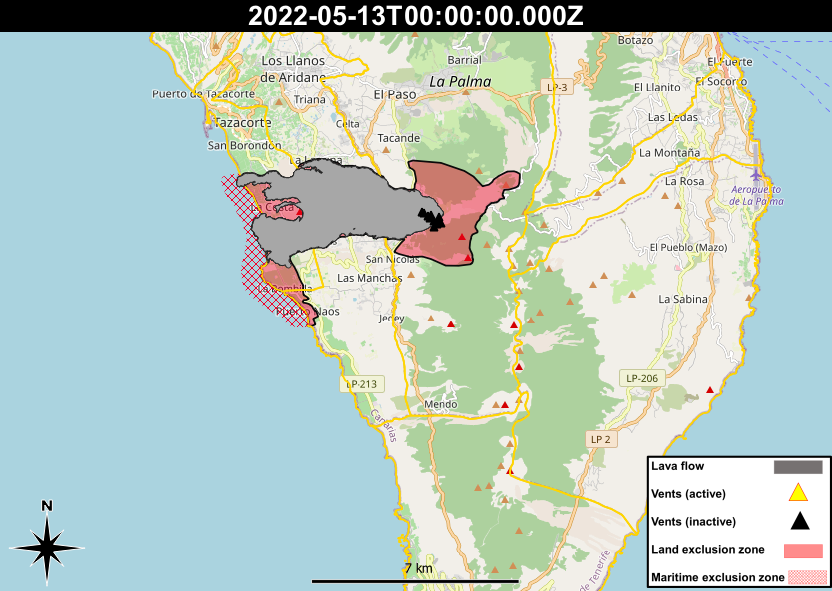 Access our archive of news articles here.
Interactive Road construction map
Come back soon to access this map.
Animated Exclusion zone map