20 May

La Palma eruption – 20th May 2022
La Palma eruption – 20th May 2022
This week, Fernández de la Puente, the deputy of Ciudadanos in the Parliament of the Canary Islands, has requested to the Minister for Finance for clarification for many families who have lost all their properties to the eruption do not know what will happen to the mortgages, charges, seizures or tax sanctions that existed on homes that no longer exist. He claimed that "many families are forced to continue paying charges and penalties for homes that will never be theirs again." Separately, the Secretary of State for Security Rafael Pérez has admitted the processing of aid may not be quick enough.
Similarly, the platform for those affected have published a report of 10 current points of uncertainty in terms of aid. This includes that some affected people who have not yet received any of the €100,000 promised aid 5 months after the eruption has ended, only a sixth of those who lost their first home have been given a dwelling under the rehoming scheme so far, and that the bill defining the rights of the affected people has still not been processed by the Canary Islands Parliament.
In terms on infrastructure, 30 km of water new pipes have been laid in Las Manchas in the last two months which will hopefully allow people to return to homes in the area with basic services soon, although another present concern is the continued lack of phone/internet connectivity in some areas. Some measures that were put in during the eruption, such as a mobile unit installed by Movistar, have since been removed, leaving residents without. Elsewhere, two new roads have been recovered to the south of the volcano along the old LP-211 road, giving access to more homes isolated by the flows.
Sources: El Time, Cabildo de La Palma, Government of the Canary Islands
To see our full news archive, visit our open data section or click here.
Access photography taken around this time
Resiste La Palma – Footage of the ash laden street along Calle Real, in Los Llanos de Aridane on October 1, 2021 and the clean street on May 10, 2022 – here
The exclusion zones and road construction plans shown here have been approximated from press releases from the Cabildo de La Palma and will not be exact, nor claim to be official maps of the exclusion zones and road construction. For official information, please contact the Cabildo de La Palma.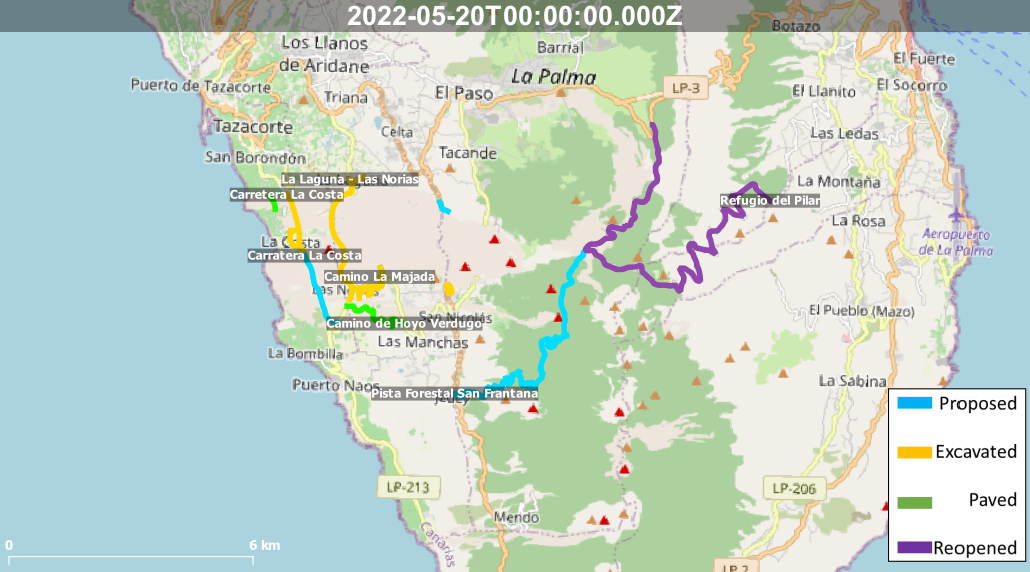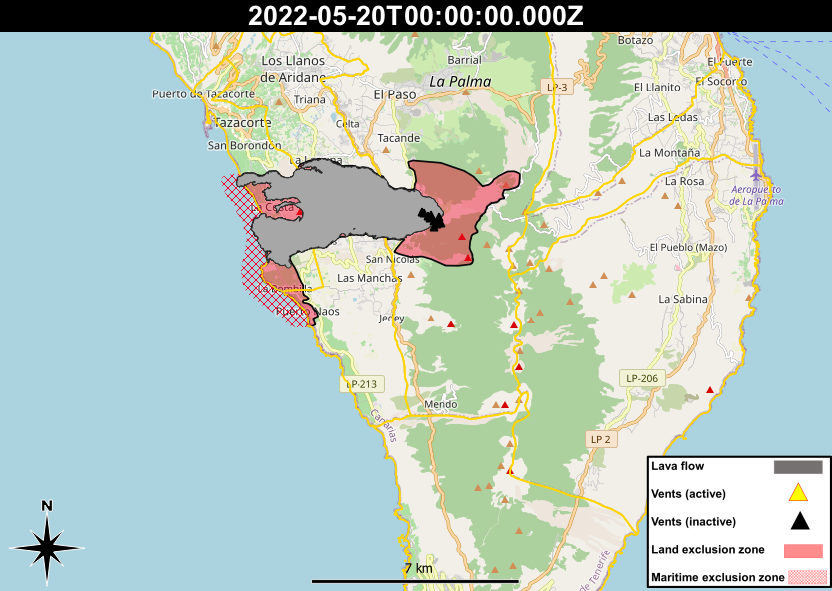 Access our archive of news articles here.
Interactive Road construction map
Come back soon to access this map.
Animated Exclusion zone map