27 May

La Palma eruption – 27th May 2022
La Palma eruption – 27th May 2022
High CO2 levels persist in La Bombilla and Puerto Naos, preventing still the return of evacuated people. Work from INVOLCAN has concluded that the amount of CO2 per km2 is around 30 times higher than the average along the whole of the Cumbre Vieja ridge, although the levels in Puerto Naos are lower than those in La Bombilla.
More scientific discoveries from the eruption have been extensively highlighted this week at the European Geosciences Union EGU22 conference, that hosted a lengthy session dedicated to the science of the eruption. A full list of abstracts can be found here: https://meetingorganizer.copernicus.org/EGU22/session/43414
Concerning roads, the Cabildo has started to pave the recovered section of the LP-213 near Puerto Naos that was overrun by thin lava flows, along a 250m long path. So far, the Cruce de La Laguna, the Camino La Majada, the Camino de La Aldea, the Camino San Isidro, the Camino Marta and the Camino of Todoque have been recovered from lava. Work continues on the Las Norias de Abajo, Aniceto and El Paraíso tracks and the two new roads across the lava flow field.
Elsewhere, after successful trials during Holy Week last month, the viewing trail for the volcano has now been opened 7 days a week, for guided tours of the volcano bookable through the Tourist Information Office.
Finally, almost 3,000 copies have been reserved for the book 'The other stories of the volcano' by I LOVE THE WORLD according to El Time, which contains incredible testimony from people affected by the eruption. The presentation of the book will take place on Monday, and GeoTenerife will be in attendance to support the authors and our ongoing #VolcanoStories project.
Sources: Government of the Canary Islands, Cabildo de La Palma, El Time, European Geosciences Union
To see our full news archive, visit our open data section or click here.
Access photography taken around this time

Resiste La Palma – Footage of Carretera de La Costa, Tazacorte, during the eruption and May 18, 2022, in the same area – here
The exclusion zones and road construction plans shown here have been approximated from press releases from the Cabildo de La Palma and will not be exact, nor claim to be official maps of the exclusion zones and road construction. For official information, please contact the Cabildo de La Palma.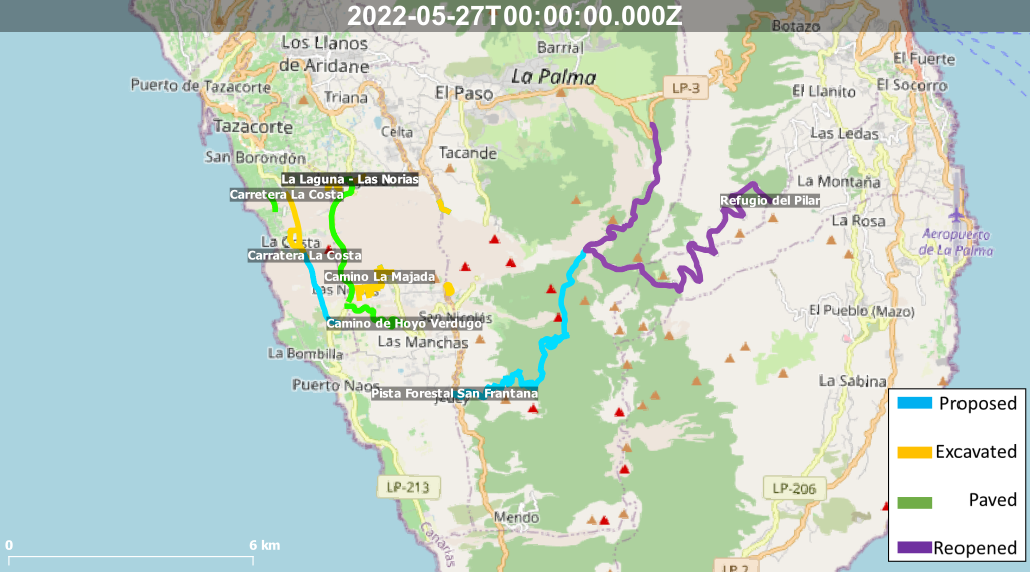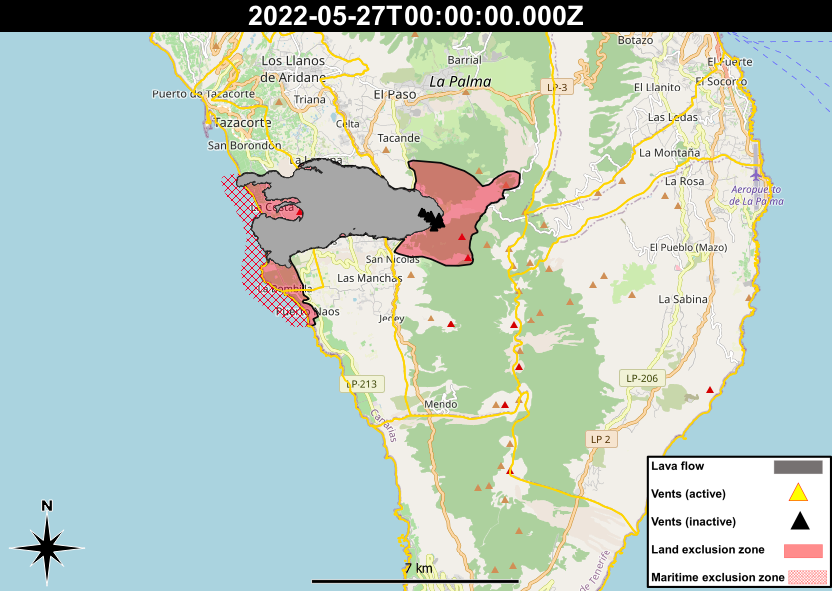 Access our archive of news articles here.
Interactive Road construction map
Come back soon to access this map.
Animated Exclusion zone map