03 Jan

La Palma eruption – 3rd January 2022
La Palma eruption – 3rd January 2022
Today, for the first time since the declaration of the end of the eruption, some of the evacuated people will be allowed to return to their homes. The order applies to around 1,000 of those evacuated to areas of Tacande and Tajuya (Rotonda del Sombrero), Las Martelas, La Condesa, Marina Alta, Marina Baja and Las Cabezadas (soccer field and cemetery area) in the north, and El Charco in the southern evacuated zone. In the coming days PEVOLCA is expected to produce a proposal for further returns of evacuees, to areas both north and south of the lava flow field. However, any new proposals will need to meet safety criteria relating to the proximity and temperature of any lava flows, height and concentrations of volcanic gases, and the availability of basic services in the area such as water.
In the areas not safe to return, the current civil protection restrictions remain in place, as does the legal emergency and the red volcanic alert traffic light. Additionally, relocated people should not access underground areas prior to gas measurements being made and confirmed safe, should remain accompanied when entering buildings, and opening all doors and windows for 15 minutes before entering for the first time. People must also check buildings for cracks, bulges and any other signs of damage. For ash clean-up, it is recommended to lightly water the ash first to prevent dust, as well as protecting the skin (long sleeves and gloves), lungs (FFP2 mask or better) and eyes (safety goggles).
In regard to volcanic parameters, tremor, earthquakes and deformation remain near or at background levels, and the SO2 emissions from the cone are described as low and are due to gases escaping as the solid magma beneath the surface cools and contracts. PM10 and SO2 concentrations remain reasonably good to good across all stations, and good across all stations, respectively.
Sources: IGN Spain, Cabildo De La Palma, Gobiernode Canarias, DSN, PEVOLCA
To see our full news archive, visit our open data section or click here.
Access photography taken around this time
Resiste La Palma – Drone photography taken post eruption – here
The exclusion zones and road construction plans shown here have been approximated from press releases from the Cabildo de La Palma and will not be exact, nor claim to be official maps of the exclusion zones and road construction. For official information, please contact the Cabildo de La Palma.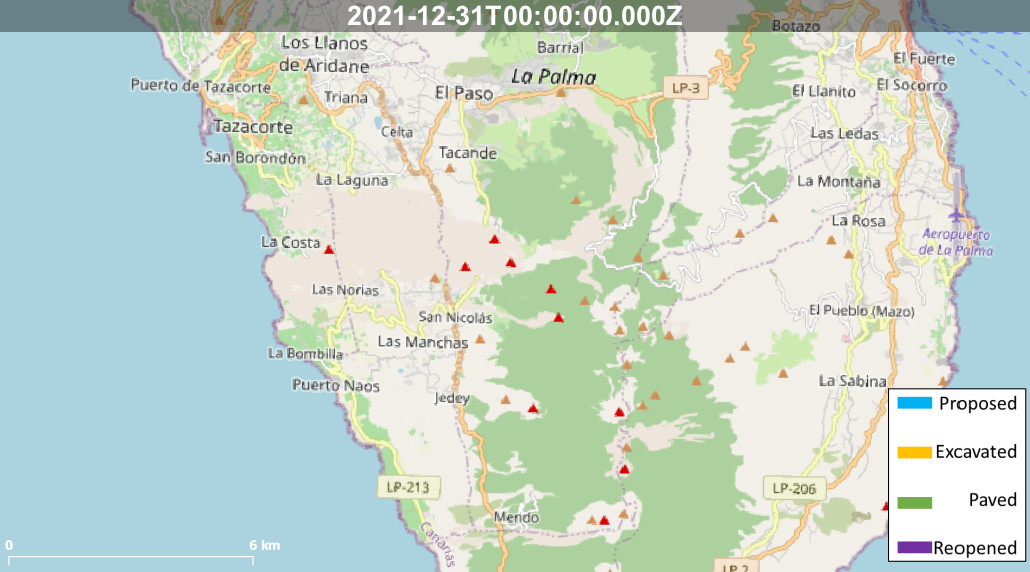 Access our archive of news articles here.
Interactive Road construction map
Come back soon to access this map.
Animated Exclusion zone map